When ordering a custom T-Shirt Blanket, there are a few prep-work steps involved that you must do before this process can begin. Please take a moment to review the information provided below before moving forward with requesting a consultation. If you have any questions, please feel free to reach out to me by either filling out the Contact form or contacting me directly via email at whatisheybailsdoing@gmail.com. I look forward to keeping your memories alive in the form of a beautiful t-shirt blanket!
---
Prep-Work Steps
Step 1: Gather all of your t-shirt blankets
Take a look at all of the t-shirts that you want to preserve via a blanket and decide whether you want to have a theme (such as your high school sports team, college sorority, fitness accomplishments, etc.). If you have multiple themes, you may want to consider having more than one blanket made.
Next, be sure to wash all of the t-shirts to ensure that they are clean and ready to go!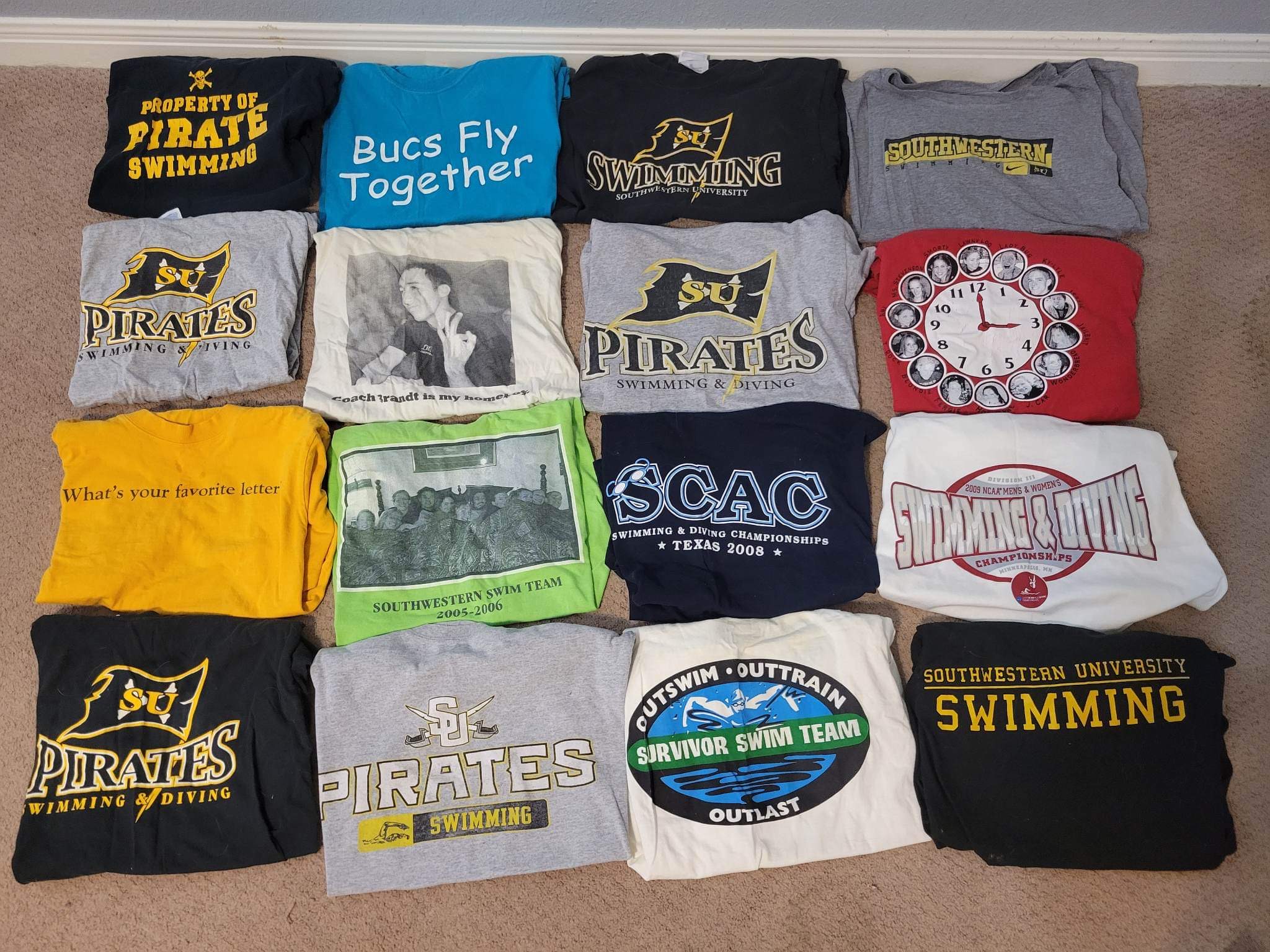 Step 2: Select which size blanket you'd like for me to create
Count up your t-shirts, making sure to count each side of the t-shirt as 1 square if you plan on using both the front and back of any of them. For example, if you have 14 t-shirts but you plan to use the front and back of 2 of them, you'll end up with a total of 16 squares.
Take a look at the size options available and decide which one works best for the number of squares that you've counted up. If you have a number that is in-between the sizes available, consider using the backs of a few of the shirts in order to reach a perfect size-number. If you're stuck, feel free to reach out to me as I can come up some creative suggestions to help fill in any gaps.
***If you're interested in having me create a Special T-Shirt Blanket for you, please count up the total number of garments you'd like to use then pick which size blanket you'd like. Skip step 3 and move directly to step 4 when ordering a Special T-Shirt blanket.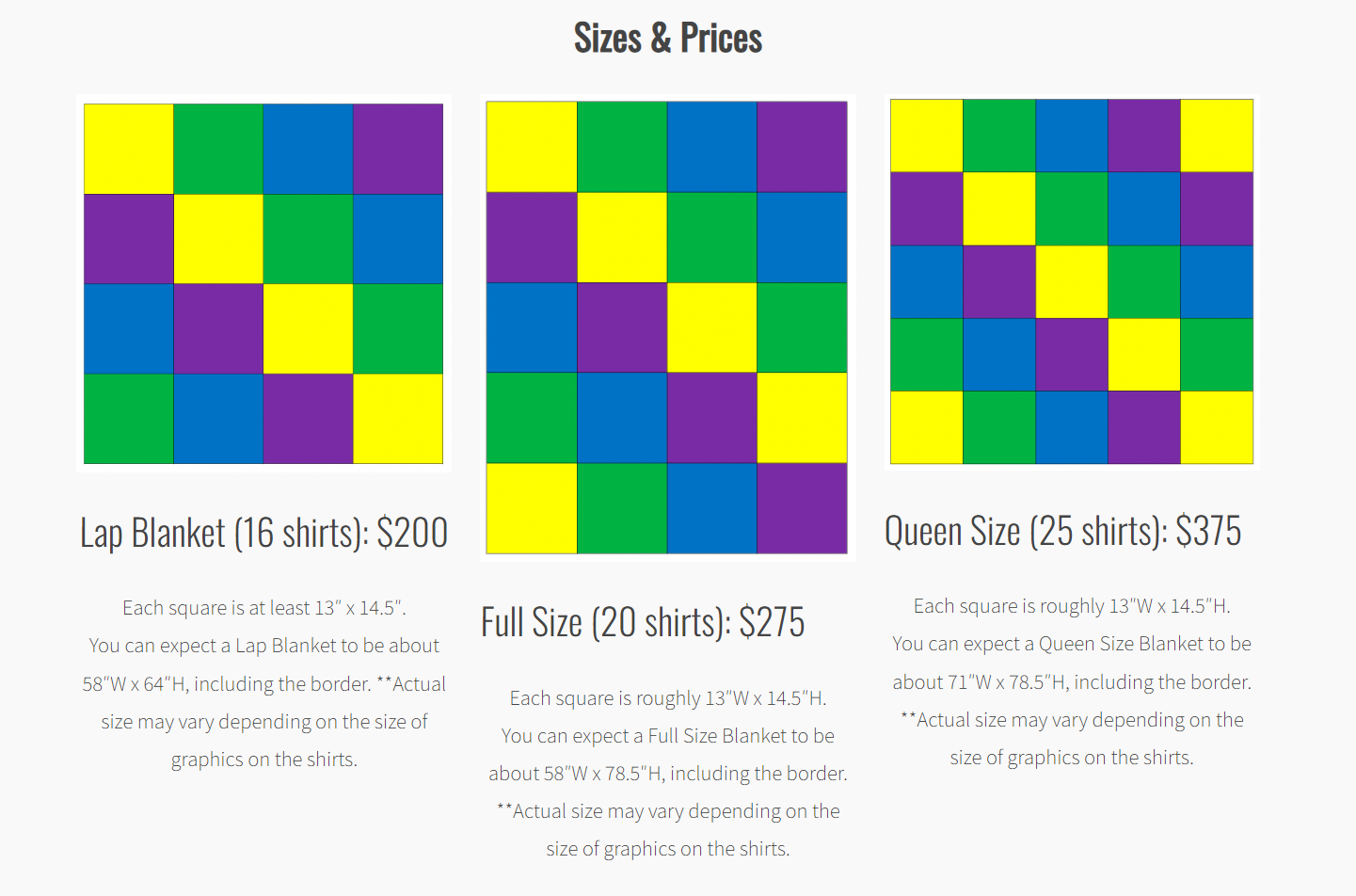 Step 3: Label the tag of each shirt with either F, B or 2
Once you've gathered and washed all of the t-shirts needed for your project, the next step is to label them. Using a sharpie or other permanent marker, write "F" on the tags of all of the t-shirts that you'd like to only use the front side, "B" on the tags of those which you only want to use the back side and "2" on the tags of all of the shirts which you'd like to use both the front and the back sides.
If you're missing the tag from a shirt or two, please write the appropriate letter/number on the back of the collar of the t-shirt (see below). The collar will be completely removed during the creation process and is not part of the blanket design.
Step 4: Contact me to begin the creation process
Now that steps 1-3 are complete, you're ready to get this project started! If the deadline for your project is down the road, feel free to select which month you'd like for me to begin working on your project via my Calendly link (**these blankets typically take about 1 month to complete, longer if I'm creating more than one for you at the same time). If you don't have a specific timeline in which you need your project completed, feel free to fill out the Request a Consultation form and I will reach out to you to discuss the timeline.
If you have a strict deadline and you need your blanket created ASAP, please email me directly at whatisheybailsdoing@gmail.com and include "PROJECT COMPLETION ASAP" in the subject line. Please be advised that contacting me last-minute means that I may not be able to complete your project within your timeframe and that it's best to contact me with ample time before your personal deadline approaches.
***For those who live out-of-state or in areas that are not close to Houston, you have the option to ship your t-shirts to me and I will ship your finished blanket back to you – you'll just be responsible for all shipping fees. Upon reviewing The Process (below), you will see that none of these steps requires any in-person contact, making this an easy project to contract from just about anywhere. ?
The Process
Now for the easy (and fun) part! The following reviews what you can expect from me starting from the moment your project begins until it ends up in your possession.
Payment
Before I take those wonderfully prepped t-shirts off your hands and begin the magical transformation process, I need to collect a minimum of 50% of the total price as a retainer payment first. This allows me to be able to purchase the fabric used for the backing and the border, while also acting as a down payment to ensure that you're serious about your project.
Currently, I accept cash and payments through Venmo or Zelle. Once payment has been received, I will email you a receipt that reflects the payment made as well as the remaining amount due upon completion of your blanket.
Selecting Fabric Colors
I begin your project by sorting through all of your t-shirts to figure out which color/color combination would look best for the border and the backing. Of course, you are always able to tell me which colors you'd like for me to use if you have some specific ones in mind! I've had clients who want a specific color, such as their high school or college's colors and other clients who leave it up to me – the choice is yours!
Next, I'll take a trip to the fabric store to purchase fleece fabric for the border and plush fleece for the backing. If you are leaving the border and backing colors up to my professional opinion, I will send you photos of options/color combinations for you to approve of before purchasing any fabric.
***Please be advised that the colors available for the fleece fabrics are not always the same colors available for the plush fleece fabrics. If this is to occur, I will immediately contact you with additional options for you to choose from and approve of before moving forward with the final selection.
Design Layout Approval
Now, the real work begins! Well, for me, anyways. I start by cutting all of your t-shirts to the appropriate size and laying them out to create the overall blanket design. Before I begin sewing the t-shirts together, I will send you a photo of the suggested layout for you to approve. At this time, if you'd like for me to rearrange any t-shirts, you'll have the option to make your requests. Once you're satisfied with the layout and approve of it, I will begin sewing.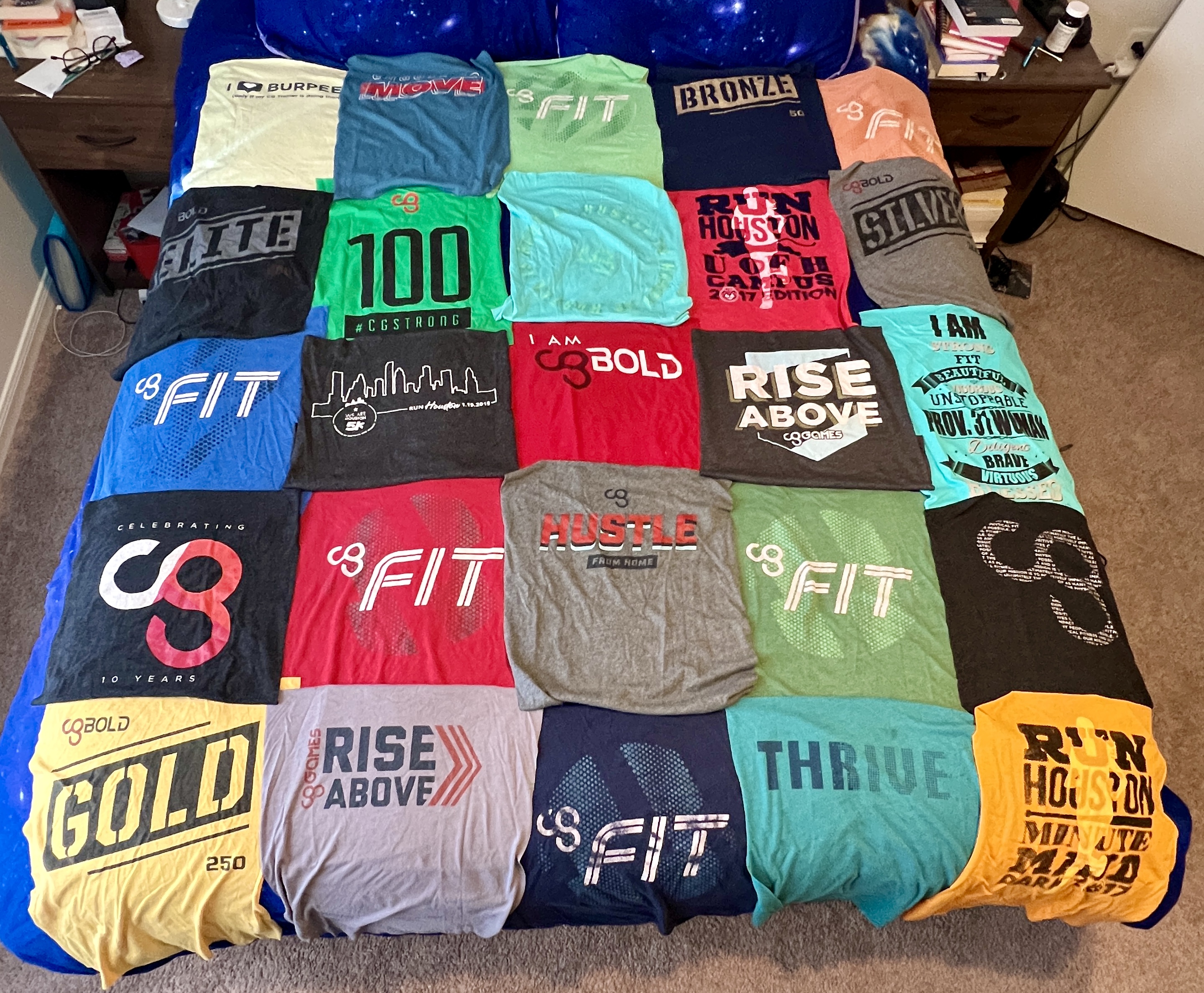 Receiving Your Finished T-Shirt Blanket
Finally, your t-shirts have been all sewn up into a beautiful blanket and it's time for you to take this bad boy home! I will contact you to decide on where to meet for delivery. Upon delivery, I require the remaining payment to be made and a receipt will be provided to you reflecting the final payment. Now it's time to enjoy a *snuggle* down memory lane! ?
If you live out of the area and are requesting that I ship your blanket to you, I will reach out to let you know the final payment amount which will include the shipping cost. Once I've received the final payment, I will ship your blanket along with a final payment receipt.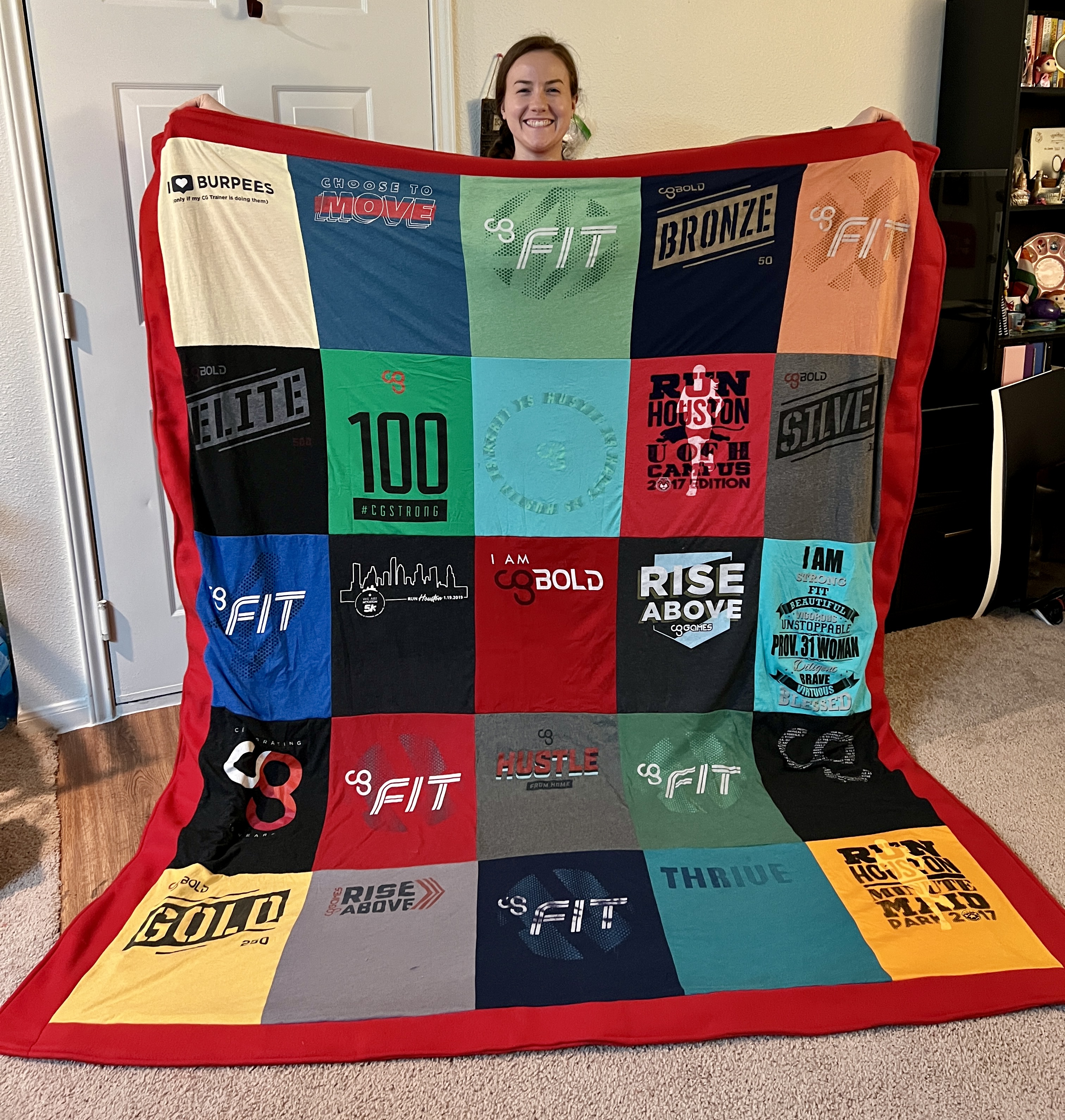 ---
Ready to get your project started? Click the button below to reach out and take the plunge towards preserving your precious memories!
---
Check out what people are saying about my services.
Meet the Designer: Bailey Reber
Bailey has been sewing since she was 10 years old and began designing and creating her own clothing at the age of 15. Fashion is her passion and she is currently attending Houston Community College with plans to transfer to The Fashion Institute of Technology in NYC to finish her studies. All profits from her sales go towards her college tuition.
Contact