Bailey recounts getting to celebrate Holi (a Hindu festival) for the first time…and in India, at that! Tune in to hear what "playing holi" is and how fun this festival of colors is. Additionally, you'll discover a few cultural insights while hearing some hilarious stories. TRAVEL ARTICLE: http://whatisheybailsdoing.com/2023/06/09/india-trip-day-5-celebrating-holi-march-18th-2022/  WEBSITE: https://whatisheybailsdoing.com/  ETSY COUPON: https://www.etsy.com/shop/BaileysWayDesigns?coupon=NEWCUSTOMER15  SHOP: https://baileyswaydesigns.etsy.com  SUPPORT THE SHOW: http://whatisheybailsdoing.com/support-the-show/  FACEBOOK: https://www.facebook.com/distressedtojoyful.baileysway/  INSTAGRAM: https://www.instagram.com/distressedtojoyful_baileysway/ YOUTUBE: https://www.youtube.com/@whatisheybailsdoing
You can also tune into this episode on Spotify, Apple Podcasts, Stitcher Podcasts, Audible, Google Podcasts, and YouTube.
We woke up pretty late this morning after getting some well-deserved rest following all of the travel and adventure surrounding our recent trip to The Taj Mahal. As I was slowly coming-to, I noticed a sound coming from below that was much different than I'd heard on previous mornings in Mumbai… Moni promptly reminded me that today is Holi! Excitement began to fill my body as I realized that today is the day that I finally get to play Holi – and in India, for that matter!
The morning was pretty slow-moving as we didn't have plans to go play Holi until the early afternoon, so I spent most of the morning watching the people of Tanvi & Jigar's apartment community celebrate, sing, dance and play in the colors of Holi down below. Their third story balcony was positioned perfectly for me to gaze in awe at all of the fun, steadily creating an irresistible desire in me to go and join them. In hindsight, I probably could've just walked down there and joined them as Indian people are typically very warm, welcoming and friendly, but instead I continued to curiously watch from above.
Finally, it was time to get ready and make our way to a local bar for an afternoon of celebration. I was so pumped! Moni and I dressed ourselves in "trash clothes" (aka clothing that we could ruin and discard of later if necessary), including white t-shirts to hopefully catch some of these colors for good. Spoiler Alert: the color did NOT stick forever like I'd hoped, and I later learned in my Fashion Textiles class that this is because the powdered pigments we played with must be combined with a chemical in order for it to actually permanently dye our t-shirts. Bummer!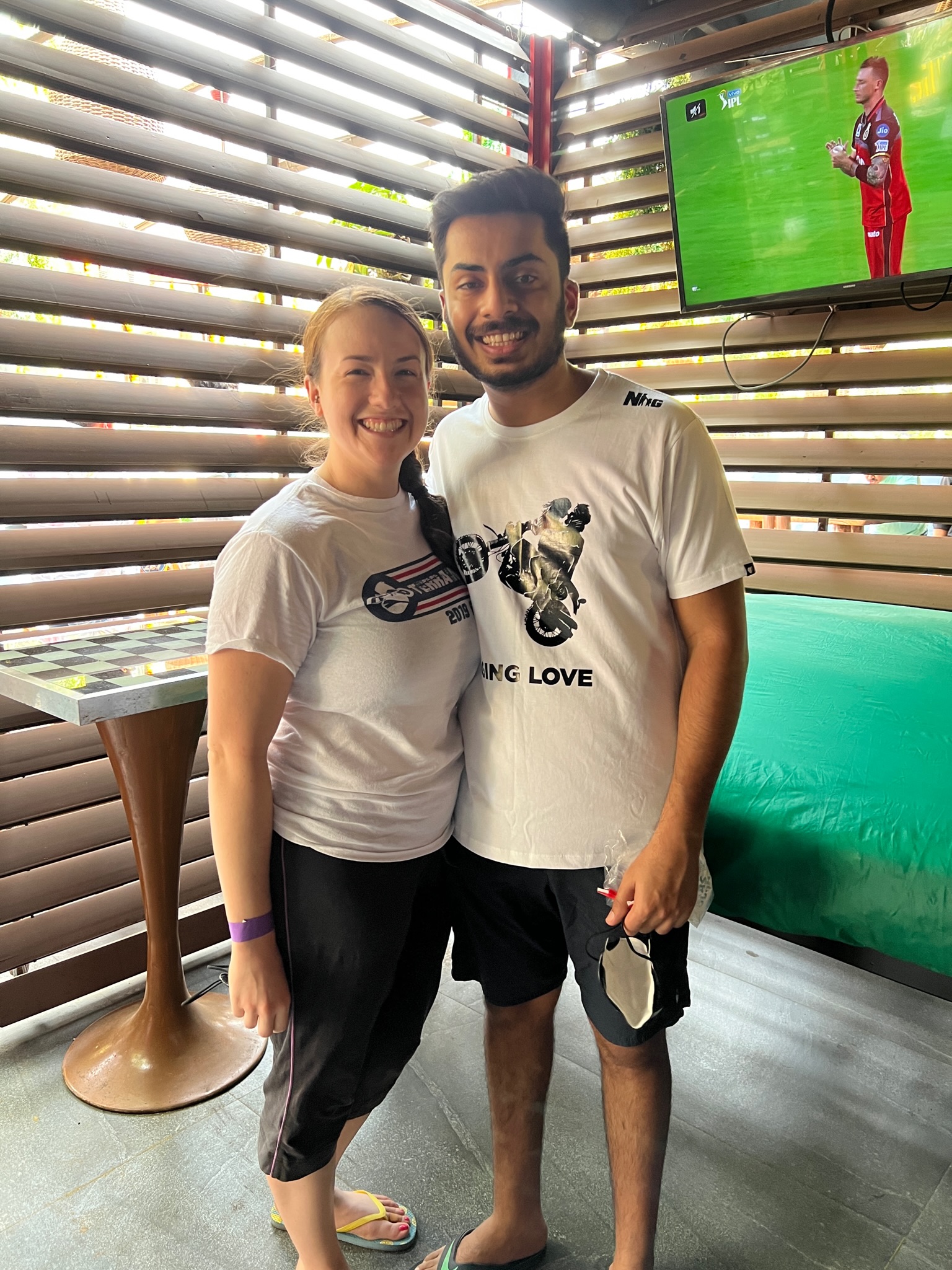 Due to the bar being close to Tanvi & Jigar's place, we all walked instead of bothering with catching a ride in an auto. The usually jam-packed, busy streets were empty as it was a national holiday, which felt both odd and confusing. As we approached the bar, I began to hear the loud roar of festive music and my excitement intensified! When we finally made it to the entrance, there were people "guarding" the door who checked for our reservation, then gave us wristbands to wear which signified that we had paid our ticket to attend.
Upon entering, I immediately noticed the buffet table to the right, which is why the wristbands were necessary. We secured a large table on the patio for the six of us to gather around as the inside was completely packed (and also very, very loud!). The inside area also contained a dance floor which was crowded with happy patrons, dancing the day away.
All of this was quite overwhelming at first. Moni grabbed my hand and led me onto the dance floor to help me get into a more festive mood. I found it to be loud, way too crowded and hot-as-fuck: three things that can often overwhelm me individually, so the combination of these created much more intense feelings of frustration. Moni could see this building within me, so he relocated us to the area to the left of the dance floor where all of the Holi colors were laid out. This instantly lifted my mood as I have been wanting to play Holi since I first learned about this Indian holiday in 2020. Now, the real fun can begin! Check out the video below to see what "playing Holi" consists of. ?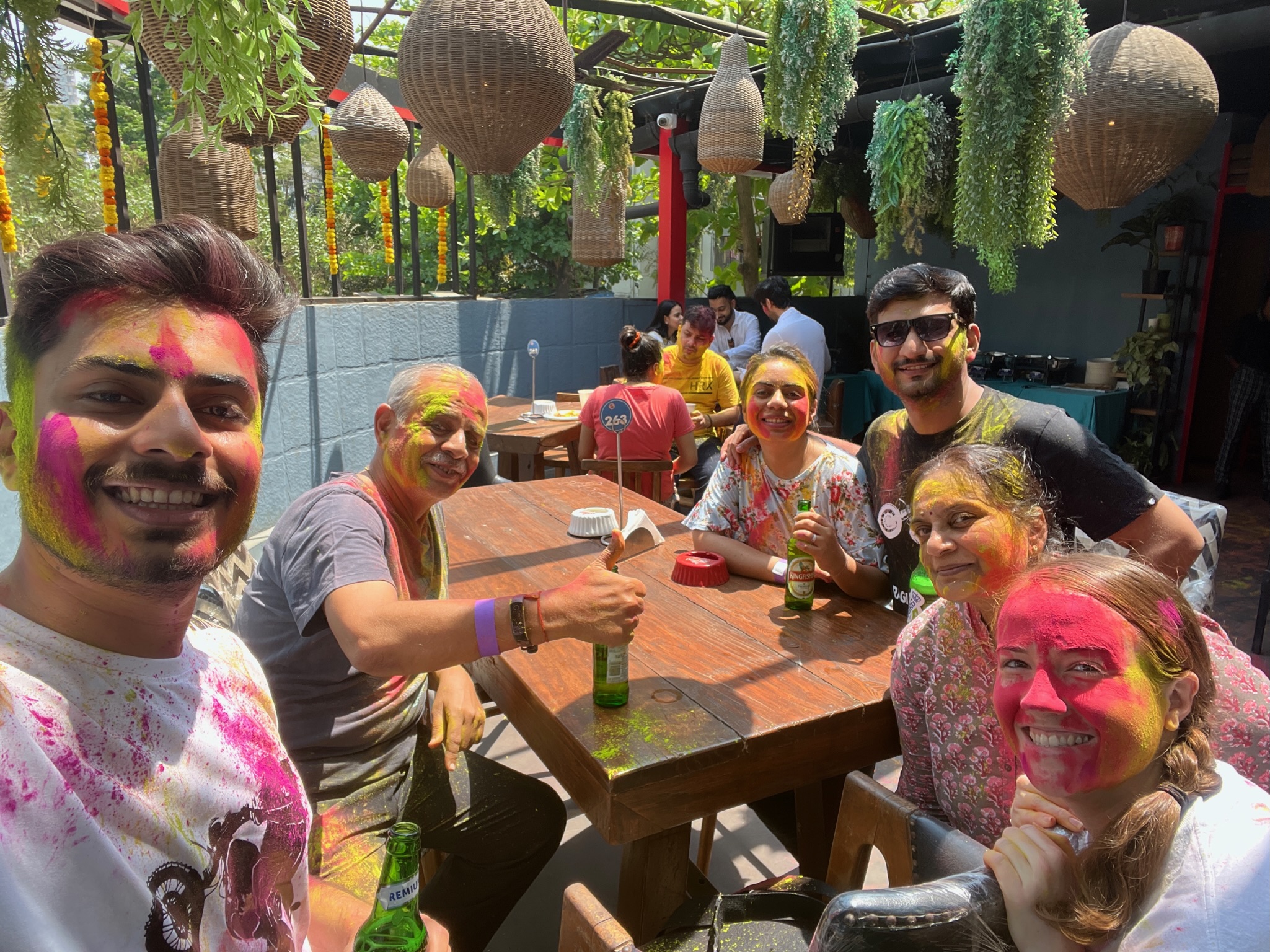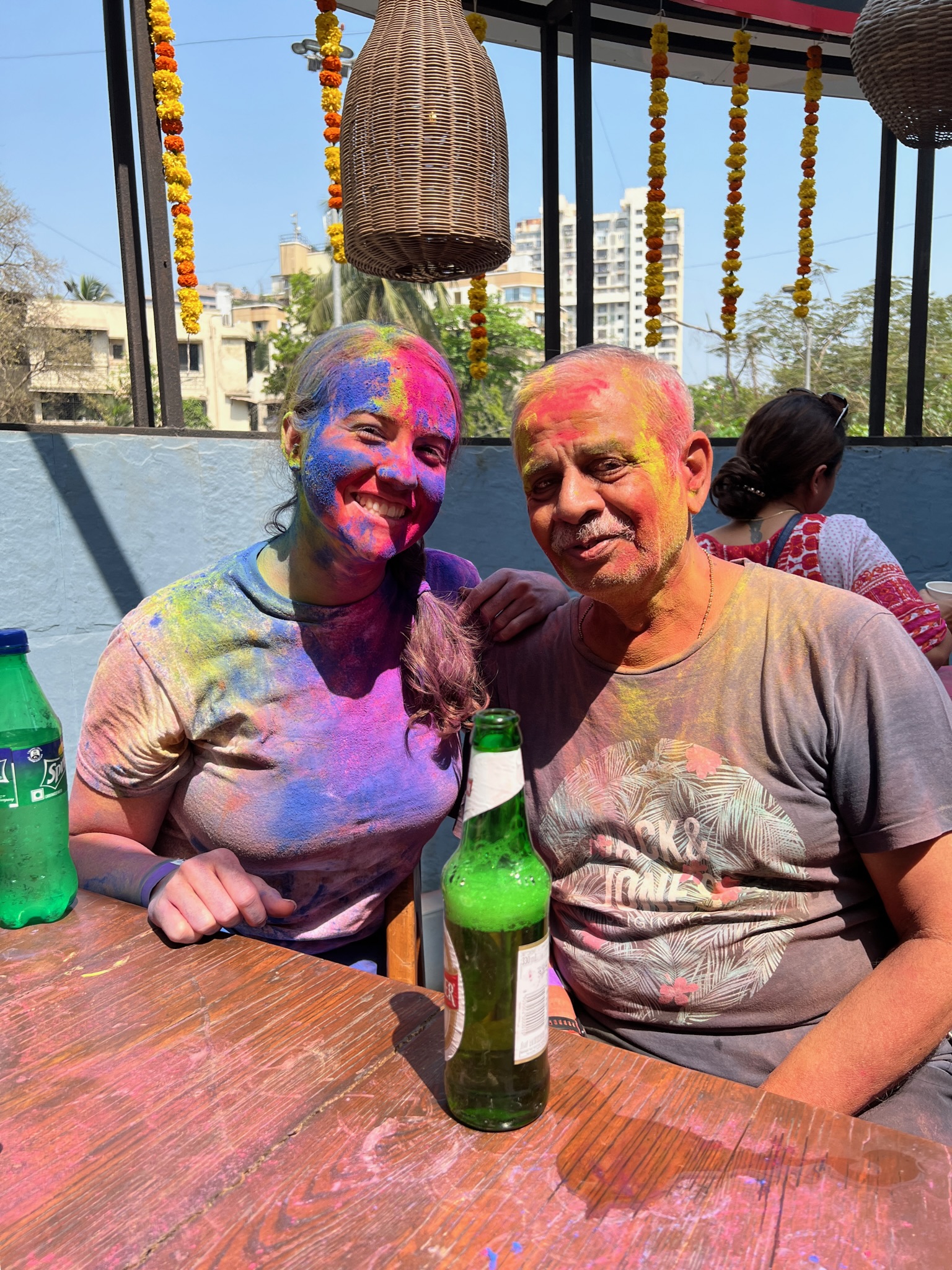 Once we settled down from playing Holi, we made our way over to the dance floor. Most of the music played was in Hindi and my knowledge of the language wasn't super advance at the time, so I wasn't able to pick up many of the lyrics – but that didn't matter! Rhythm knows no language and moving my body to the beat was such a freeing experience! Due to my sobriety, I didn't have any liquid courage to assist with confidence, so I was a little shy and self-conscious on the dancefloor in the beginning. As time went on, I realized that it didn't fucking matter how my dancing might look because no one cared! It was all about having fun and releasing all of the feel-good endorphins that dancing loves to do for the body.
After spending quite a bit of time on the dancefloor, most of us needed a little break (and some of us needed another beer ?), so we made our way back to the patio and found seats at our table. By this time, the dhol wala appeared and added additional hype to the already-hyped-up-atmosphere. Somehow, Jigar managed to get the drum away from the dhol wala and was playing it himself. ? Intrigued, I walked up to Jigar and he offered to let me play along with him. At first, I was just banging on the drum randomly, though I was encouraged to create a rhythm, so I did just that! Surprisingly, I caught on very quickly and we had a blast playing this traditional drum.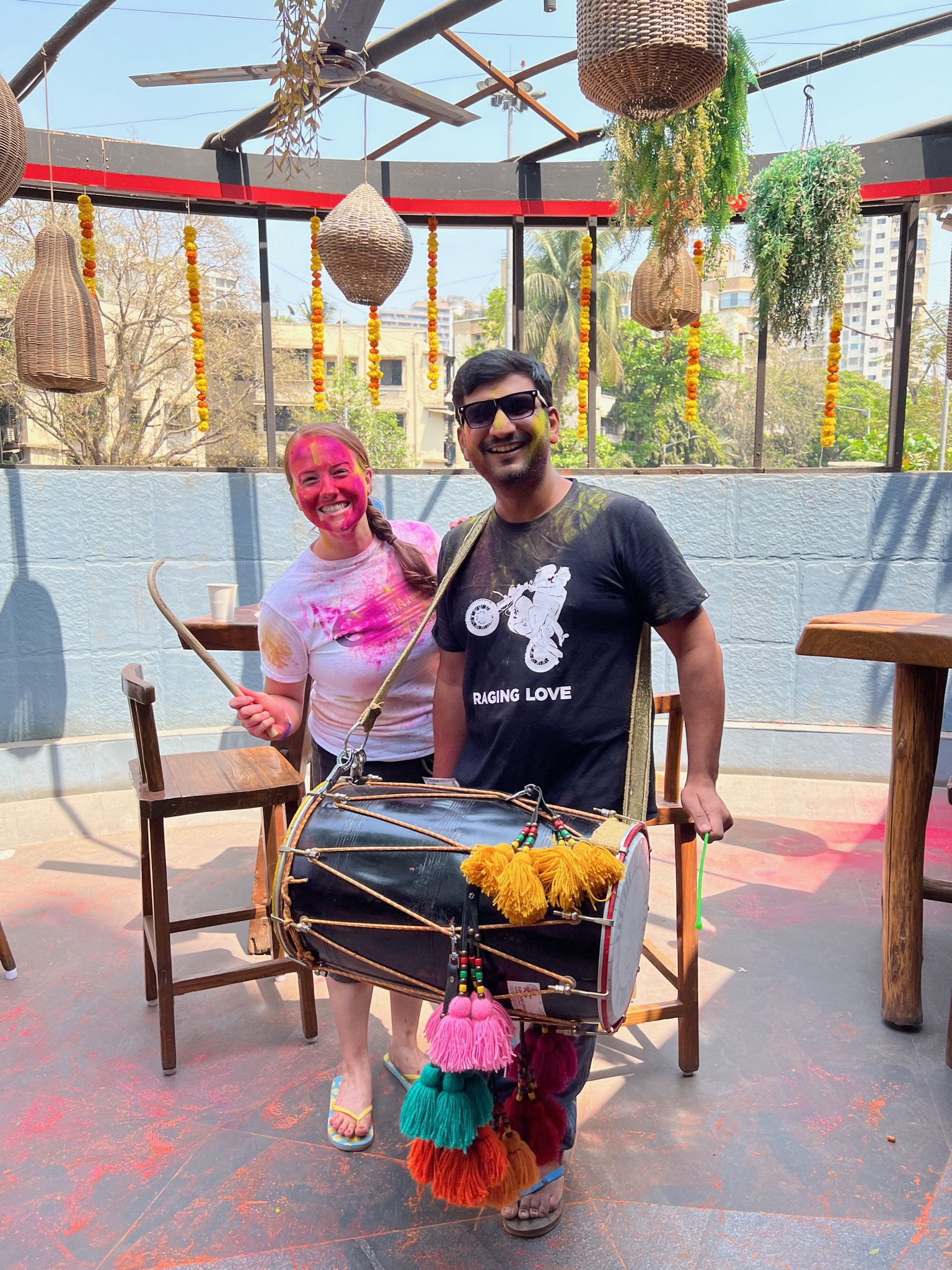 At this point, Moni's longtime friend, Visat, arrived and surprised Moni as he had no idea he would be showing up. Visat and I spent a good portion of the afternoon chatting as he, like many of Moni's friends and family members, had been wanting to meet me and now was finally his chance! He was the first of many of Moni's people that I would meet, spend time with and get to know while on this trip. The pandemic made the distance between our residing country (the U.S.) and Moni's motherland (India) so much larger than it already is, but I was determined to not take any of these meaningful moments for granted.
We stayed at the restaurant well into the late afternoon, playing Holi, dancing, making friends with people at the tables nearby, eating, drinking and just enjoying the day. Eventually, we all decided that it was time to leave, so we moved our party back to Tanvi & Jigar's apartment. By this time, a few more of Moni's friends had joined, increasing our party from the original six members to more than nine.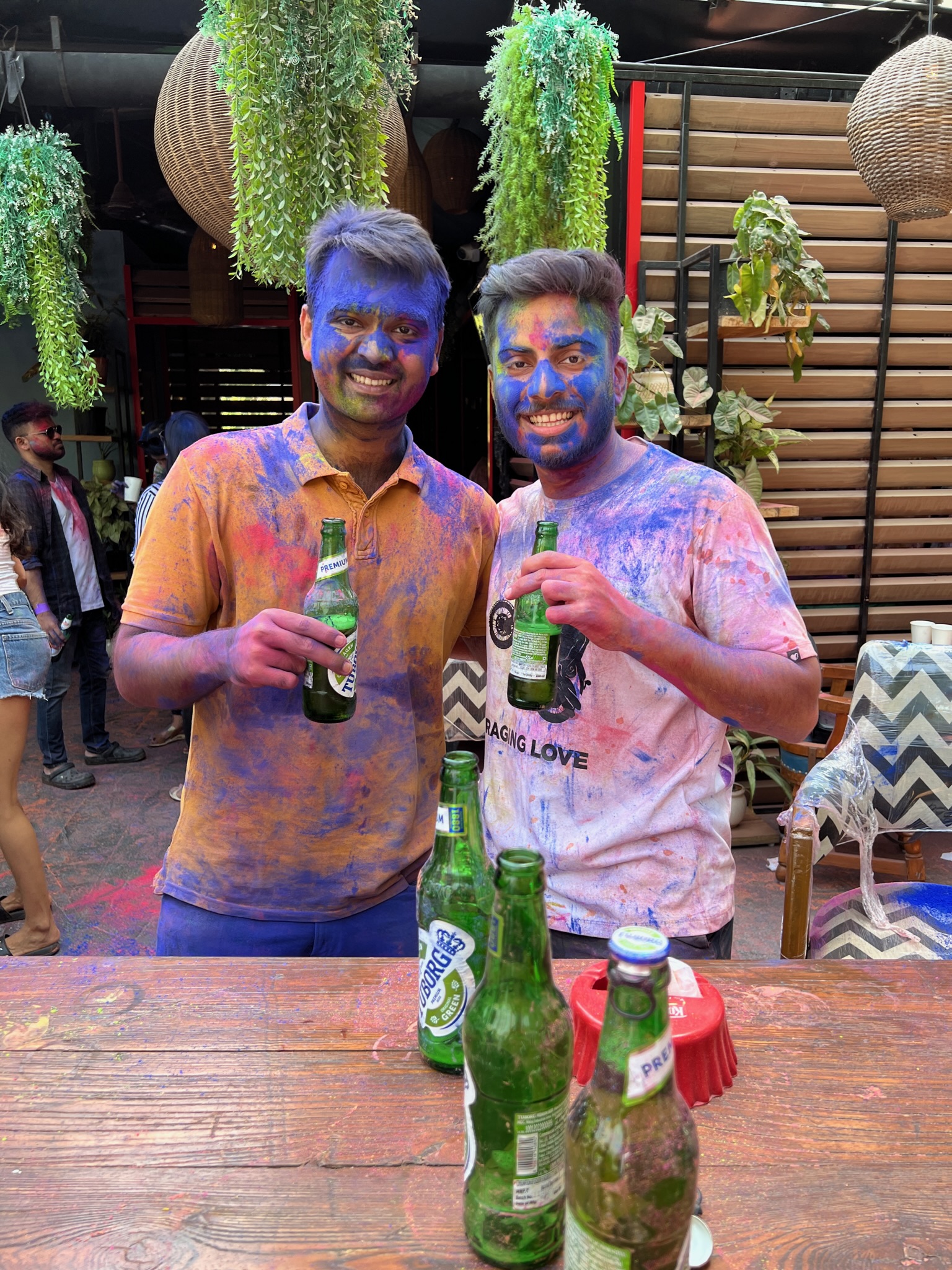 Upon entering their apartment, I immediately asked if I could shower first. I was ready to wash all of the color, sweat and spilt beer away! As we all took turns getting cleaned up, the drinkers kept on drinking and the non-drinkers just enjoyed the company and comradery around us. As dusk grew, I mentioned that I wanted to go check out the rooftop terrace of the apartment complex. The entire building contains 22 floors in total, which I was mesmerized by as they technically live in the suburbs. The suburbs in the U.S. contain nothing of this sort! Also, it's important to note that in India, they call the first floor the "ground floor" and the second floor is the "first floor", counting upwards from there. So when I first asked how many stories this building contains, I was told 20 as the ground floor and the rooftop terrace were not included in this count.
All of us "young people" (i.e. everyone excluding Mom and Dad ?) hopped into the elevators and made our way up to the terrace to watch the sun set. It was so beautiful! While up on the terrace, we found a ladder that we could climb up to catch an even more elevated view. I was the first one to climb up and soon after, many of the others followed. Climbing up was easy, though climbing down was not. It was a little terrifying, but it was 1000% worth it to get to see an additional view!
We spent the rest of the evening hanging out at the apartment with the family and friends. Mom and Dad needed to wake up early to catch their train to Vadodara in the morning, so things settled down a bit early. Moni and I will stay in Mumbai with Tanvi & Jigar for one additional day and we will catch a train to Vadodara the following day. I'm super excited for this as it will be my first ever official train ride and I will finally get to spend time at the home that Moni grew up in. ?
---
Ready for more? Sign up to receive the next part of my journey directly in your inbox! Not only will you be the first to know when the next pieces of the story are released, but you also have the option to receive travel tips, packing tips and all of the wonderful knowledge that I've required about visiting India! Trust me, you don't want to miss out on this FREE information.
---
Check out the next day of this adventure! Or, if you haven't already, you can find the previous journal entries of this magical adventure by flipping through the articles below!