These cookies have been a total HIT at every single party or event that I brought them to in the past. Obviously, I haven't been taking them anywhere these days except for across the house and onto the couch with me as we're spending our time isolated while this pandemic is still running wild. With that being said, I've been working on shedding my "quarantine 15" that I put on during the months of April and May so these cookies have been a LIFESAVER in order to satisfy my sweet tooth!
Want to get to the point and snag the recipe? Scroll on down to the bottom!
What's incredibly beautiful about this recipe is that it only takes 15 minutes to create – 5 minutes to prep and 10 minutes to bake! Plus it's made using very ripe bananas and I don't know about you, but I'm the queen of buying bananas to let them turn brown on the counter without so much as eating one. Whoops! So this recipe gives me a wonderful way to use those not-too-pretty-looking bananas for a yummy treat! The more brown in color that they are, the sweeter they will be.
These "cookies" are healthy and also vegan, depending upon which combination of "extras" you plan to put into them. I promise, you will love them! No judgement if you decide to eat the whole batch in one day – I may or may not have done that once or twice myself… Whaaat? I'm telling you, they're irresistible!
The photo above shows them made with chocolate chips which is my favorite way to make them. I've also really enjoyed them with a scoop of protein powder mixed in for the chocolate flavor instead of using the chips on top. Plus it adds protein! It's also incredibly tasty using just the bananas, oats and cinnamon. Add a drizzle of honey on top while they're still warm for extra goodness! See below 😉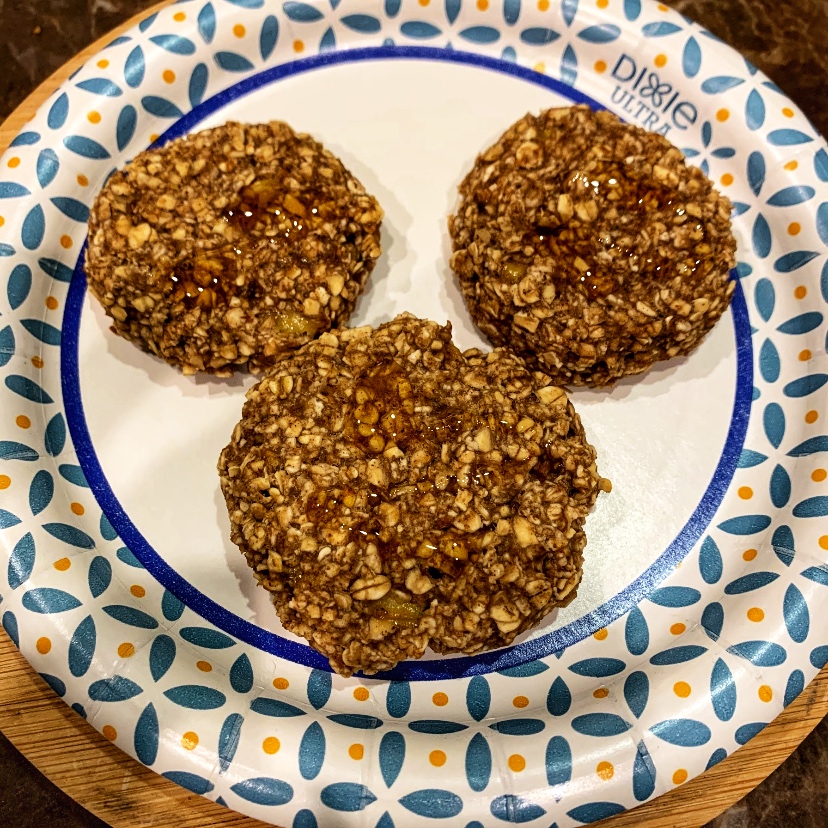 I'm a HUGE Disney fanatic and I couldn't resist making the iconic Mickey Mouse out of these cookies. Hehe!
So what are you waiting for! Grab those brown bananas off your counter and start baking! Share your creations on Instagram and don't forget to tag @whatisheybailsdoing and tell me what you thought of them. 🙂
What combination of the "extra goodies" are you planning to try out first??