Right after my 25th birthday in December of 2018, I had what I call my "quarter-life-crisis" where I decided it was time for me to take control of my life and my own happiness. At the time, I was overweight, depressed, stressed and all-around unhappy with where my previous life choices had led me. I decided that my first order of business was to lose all of the excess weight that I had gained since graduating high school.
I joined the best fitness program anyone could ask for, Camp Gladiator, where I learned about the importance of nutrition alongside the HIIT workouts that my trainers guided us in. Prior to joining Camp Gladiator, I ate mainly fast food, processed foods and an astounding low number of fruits and vegetables. My trainers constantly pushed the idea that fresh foods with lots of produce are required when maintaining a strong, healthy body… So, I decided to start experimenting in the kitchen!
Cooking used to be such a hassle and dread for me – I used to avoid it at all costs. Therefore, I chose to try meal prepping at the beginning of the week in order to minimize time spent in the kitchen while still getting to enjoy fresh, homemade meals throughout the week. I came across all kinds of delicious lunch, snack and dinner recipes on Pinterest that I still use today, although an easy, healthy yet delicious breakfast seemed to be much harder to pin down.
After trying out a couple different "egg muffin" recipes, I found a much easier, quicker way to create a protein-packed, healthy breakfast that I continue to enjoy every morning to this day since creating the recipe in 2019. Check it out for yourself! I love tomatoes and prefer to use them as the only vegetable in an effort to save time, but feel free to get creative with your choice(s) of vegetables!
Quick, Easy, Healthy Egg Bites
This cheap, easy breakfast recipe is perfect for the independently-living individual looking for a healthy, pre-prepped breakfast meal! Or, double the recipe to create four days worth of pre-prepped breakfasts for you and your partner.
Prep time: 8 minutes
Cook time: 25 minutes
Total Time: 33 minutes
Ingredients:
3 Whole Eggs
1 ½ cups Egg Whites
3 Roma Tomatoes
Tony Chachere's Seasoning
Additional spices, if preferred
Black Pepper
Non-Stick Cooking Spray
Instructions:
Preheat oven to 350 degrees. Grease a 12-count muffin tin using your choice of non-stick cooking spray.
Dice the tomatoes into small chunks and distribute evenly into the muffin tins. Sprinkle with Tony Chacherie's (or your choice of seasoning spice) and black pepper. Go heavy on the seasonings if you enjoy lots of flavor.
Whisk the 3 whole eggs into the egg whites then distribute evenly among the muffin tins.
Bake for 25 minutes. Serve immediately OR store for up to 4 days in the fridge in air-tight containers.
**Helpful Tips
Use Egg Whites (found in cartons in the egg/dairy section of most grocery stores) in order to save time and minimize food waste
For meal prep, distribute 3 egg bites into four different containers to create four days of ready-to-enjoy breakfast. Heat for 1 – 1 ½ minutes in the microwave, uncovered, for best reheat results.
Sprinkle a little shredded cheese for added flavor if desired.
Mix up the vegetables to avoid boredom – add spinach, bell pepper, mushrooms – get creative!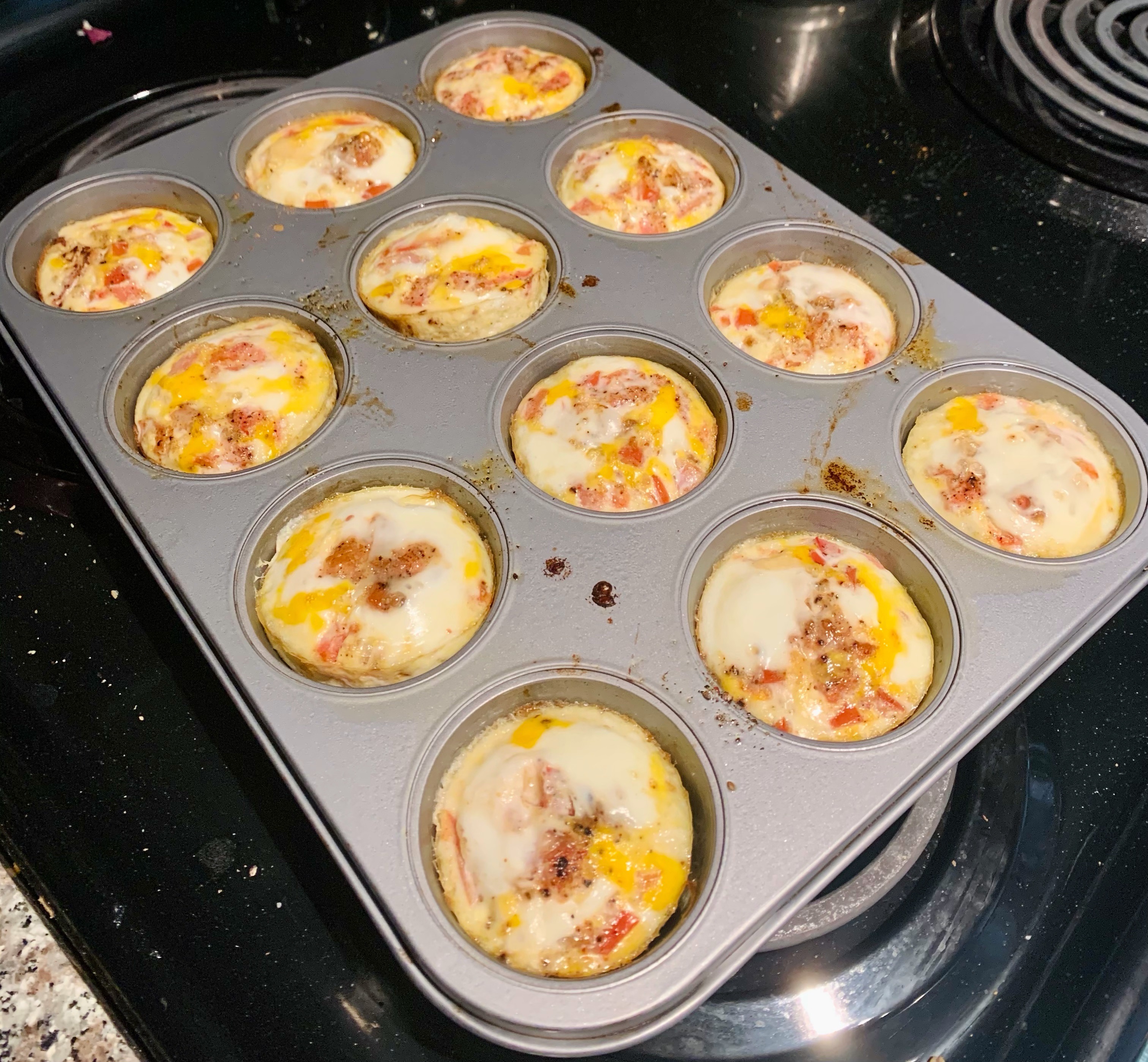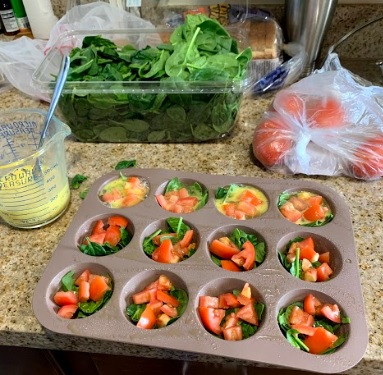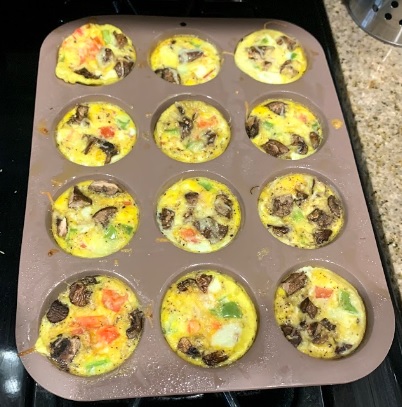 Until next time… Take it easy, stay grateful & be joyful!

Bailey Reber
Hungry for more healthy recipes? Check out the articles below and get to cookin'!