For those of you who read the original article about the sewing challenge that I created for myself for the year 2021, here's an update on the progress so far!
Inspired by a friend, I'm using ONE sewing pattern to create a new look for every single holiday of the year. I've titled this challenge 2021: The Year of The Romper and have completed four rompers so far. Below is the list of the holidays and the titles of each romper – obviously I had to name them all 😉
Valentine's Day – "Be Mine"
St. Patrick's Day – "Lucky Charmer"
Easter – "Hoppy Bunny"
LGBTQ Pride – "Love is Love"
4th of July – "The Star Spangled Jumpsuit"
Now for the fun part… PHOTOS! 🙂
Valentine's Day – "Be Mine"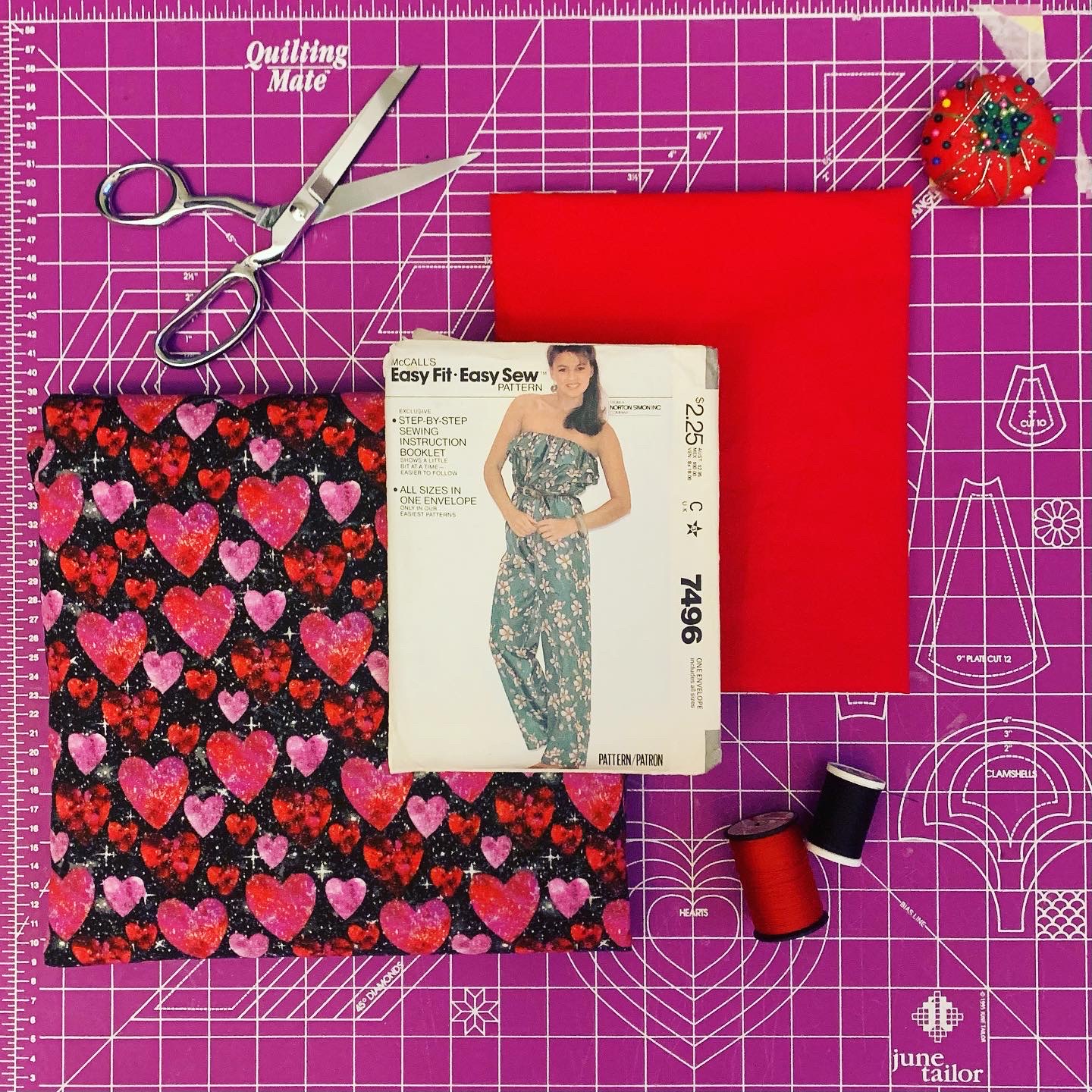 This is the first pant-length romper that I've made in awhile and I couldn't be happier with it's outcome! It's typically chilly in February (even in South Texas), so I paired it with a denim jacket, red Ked shoes and beautiful heart shaped earrings from 2 Birds Boutique to complete this lovely look. Click here to see the Instagram post with more photos.
St. Patrick's Day – "Lucky Charmer"
I'm incredibly proud of this romper for two reasons – 1. It was created using scraps leftover from the green dress that I made for the cover art for Season One of Distressed to Joyful; Bailey's Way and 2. Because I not only lined the shorts with a soft, comfy fabric to avoid chaffing, but I figured out how to do so for the top that also kept all of the elastic hidden in between the layers. I took some leftover gold fabric from a different project to create pockets that popped!
Paired with the romper are my favorite pair of Kate Spade Glitter Gold Keds and a cute light-up bow that I bought on sale at Joann's many moons ago. Click here to see the Instagram post with more photos.
Easter – "Hoppy Bunny"
Oh, how I wish I could wear this for more occasions than just Easter! I'm in love with the bright, fun colors that this print is made of. Also, there is glitter that's part of the fabric – which is not exactly visible in the photos but trust me, it's there and it's making this romper that much better.
I paired my Hoppy Bunny romper with iridescent Converse, bunny ears found at The Dollar Tree and adorable glitter earrings from 2 Birds Boutique. Click here to see additional photos on my Instagram page.
LGBTQ Pride – "Love is Love"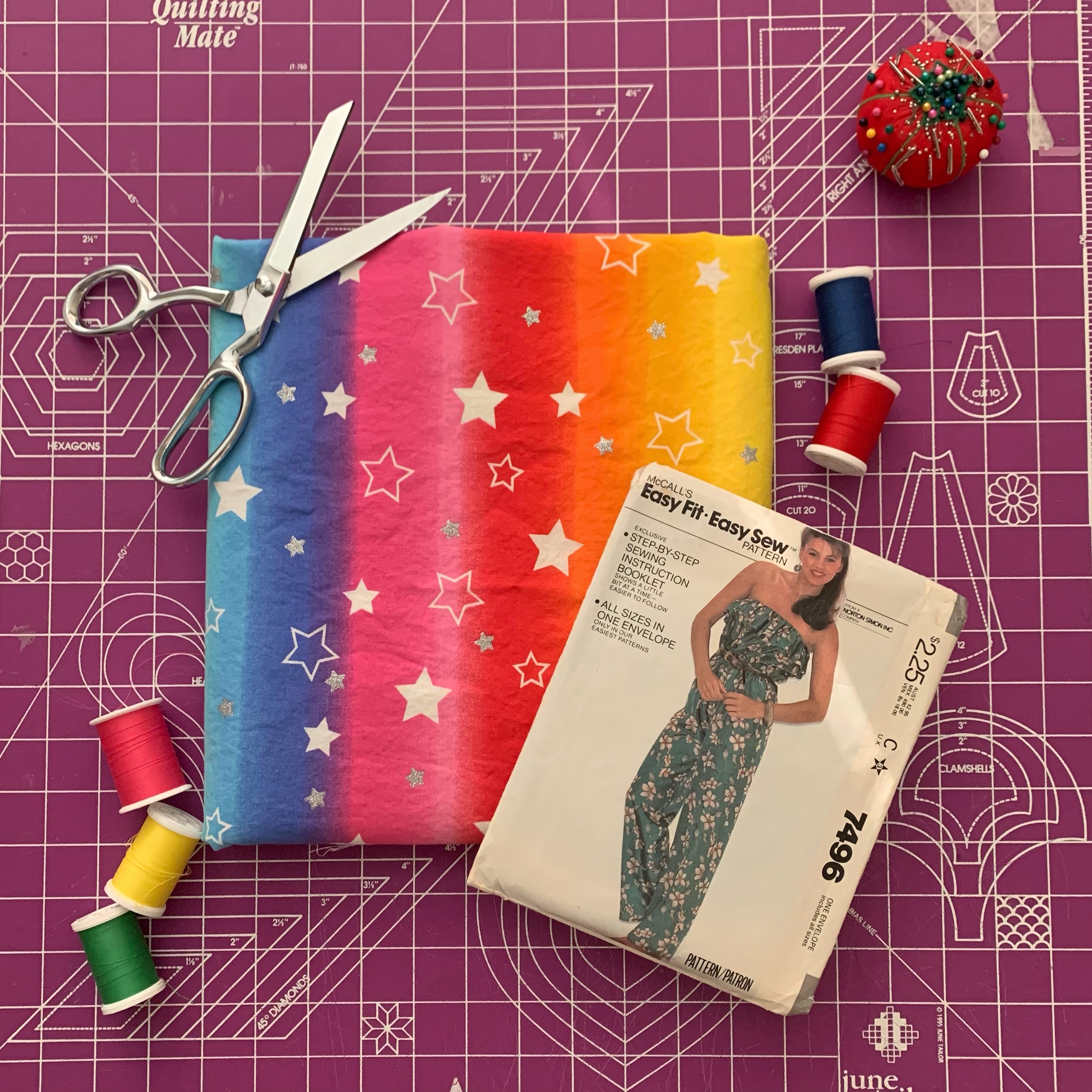 The romper I made for my best friend, Viktor, is my best work yet. I used a pajama – yes, a PAJAMA – pattern to help create this masterpiece of a male romper that fit him perfectly. The original design I came up with included sleeves but I ran out of fabric and had no choice but to leave them off – which proved to be a good thing. The sleeveless, low-cut top combined with the vibrant rainbow print gives off a real 80s-vibe that you can't help but adore! I am so incredibly proud of my ability to fit this romper to Viktor's body shape!!
**Side note – Viktor never had a "coming out" moment like a lot of those in the LGBTQ community do, so he took this as an opportunity to do so. We had an absolute blast taking these adorable photos together where he got his chance to officially come out. I am so proud to call him my best friend and even more proud to shout "LOVE IS LOVE" until my voice gives out!
I used a different yet similar fabric for my romper because they ran out of the fabric that I wanted to use for both of ours (his). I'm actually really glad, though, because the fabric I used for mine matched a set of earrings I had bought years ago. Paired with the dangle-white-star earrings and my iridescent Converse, my look complimented his very well! Click here to see more fun photos!
4th of July – "The Star Spangled Jumpsuit"
The romper that started it all… I began making this romper in 2016 but stopped halfway through because I realized that I was too big to fit even the largest pattern size. Thankfully I hoard my sewing supplies because I came across the project again in 2019 – not long after I reached my 50lb weight loss goal. I decided to complete the romper and turns out that it was now TOO BIG! My alteration skills were put to the test as I removed extra fabric to have it fit to my new body shape. (Click here for more photos)
After finishing the project, I excitedly posted photos on Facebook where a friend gave me the idea to create a romper for every holiday of the year… Well, here we are! Chugging along and finding new, creative ways to use one pattern to celebrate all year long. (Click here for the original post – the IG version)
Be sure to follow @whatisheybailsdoing on Instagram to continue to see more of The Year of The Romper updates as the holidays continue to approach.
Not done hearing from me? Check out a few (or all) of the articles below! 🙂