Over the entire course of the year 2021, I tried something new and committed myself to a sewing challenge. Inspired by a friend, I used ONE sewing pattern to create a new look for every single holiday of the year. The pattern I selected was a romper pattern from the 80s that I've had in my possession for as long as I can remember. Rompers are super cute & fun, easy to layer for cold weather looks and never fit properly when purchased from the store, so having an entire collection of custom-fitted, themed rompers for myself is like a dream come true.
This challenge is titled 2021: The Year of The Romper and I have completed a total of eight rompers (excluding the New Years Romper that I am still finishing up LOL). Below is the list of the holidays and the titles of each romper – obviously I had to name them all ?
Valentine's Day – "Be Mine"
St. Patrick's Day – "Lucky Charmer"
Easter – "Hoppy Bunny"
LGBTQ Pride – "Love is Love"
4th of July – "The Star Spangled Jumpsuit"
Halloween – "Too Cute to Spook"
Thanksgiving – "Turkey Trouble"
Christmas – "Oh Christmas Tree!"
Now for the fun part… PHOTOS! ? I hope that you enjoy my creativity that I incorporated into each of these festive rompers! For those of you living locally in the Houston area who may be interested in having one of these rompers made for yourself, head on over to the Contact page to submit a request for a consultation.
---
Valentine's Day – Be Mine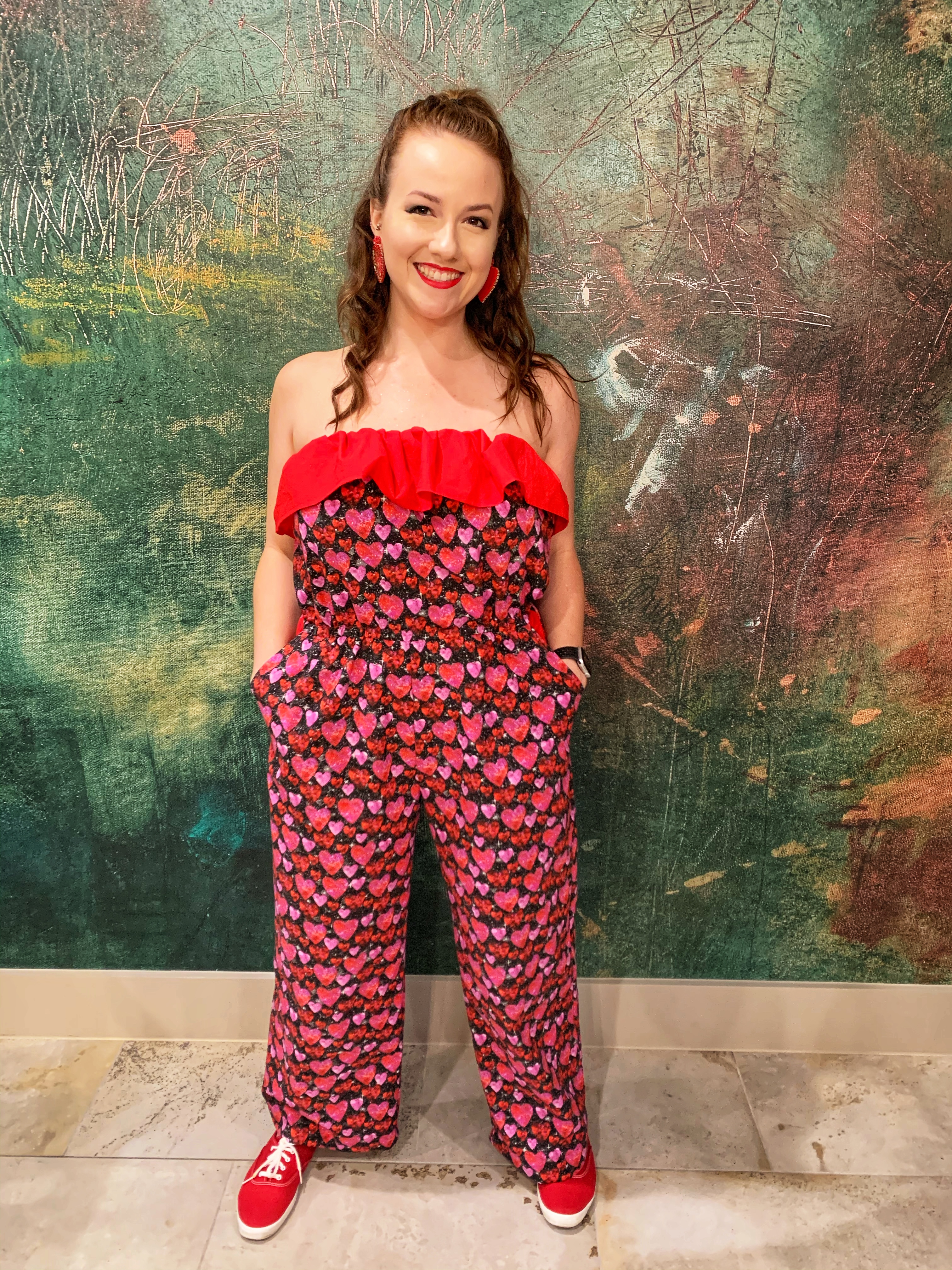 This was the first pant-length romper that I'd made in awhile and I couldn't be happier with it's outcome! It's typically chilly in February (even in South Texas), so I paired it with a denim jacket, red Ked shoes and beautiful heart shaped earrings from 2 Birds Boutique to complete this lovely look. Click here to see the Instagram post with more photos.
---
St. Patrick's Day – Lucky Charmer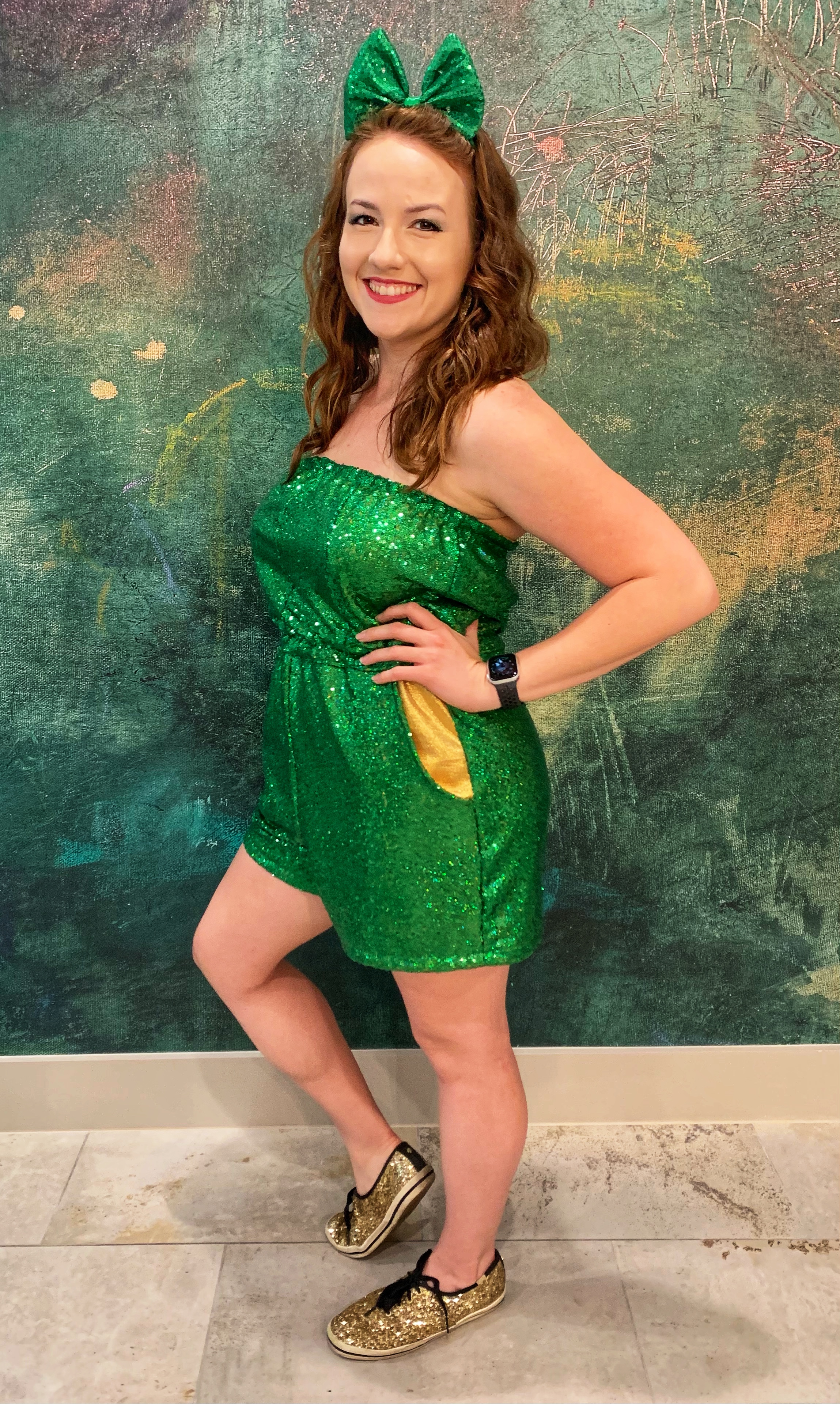 I'm incredibly proud of this romper for two reasons – 1. It was created using scraps leftover from the green dress that I made for the cover art for Season One of Distressed to Joyful; Bailey's Way and 2. Because I not only lined the shorts with a soft, comfy fabric to avoid chaffing, but I figured out how to do so for the top that also kept all of the elastic hidden in between the layers. I took some leftover gold fabric from a different project to create pockets that popped!
Paired with the romper are my favorite pair of Kate Spade Glitter Gold Keds and a cute light-up bow that I bought on sale at Joann's many moons ago. Click to see the Instagram post.
---
Easter – Hoppy Bunny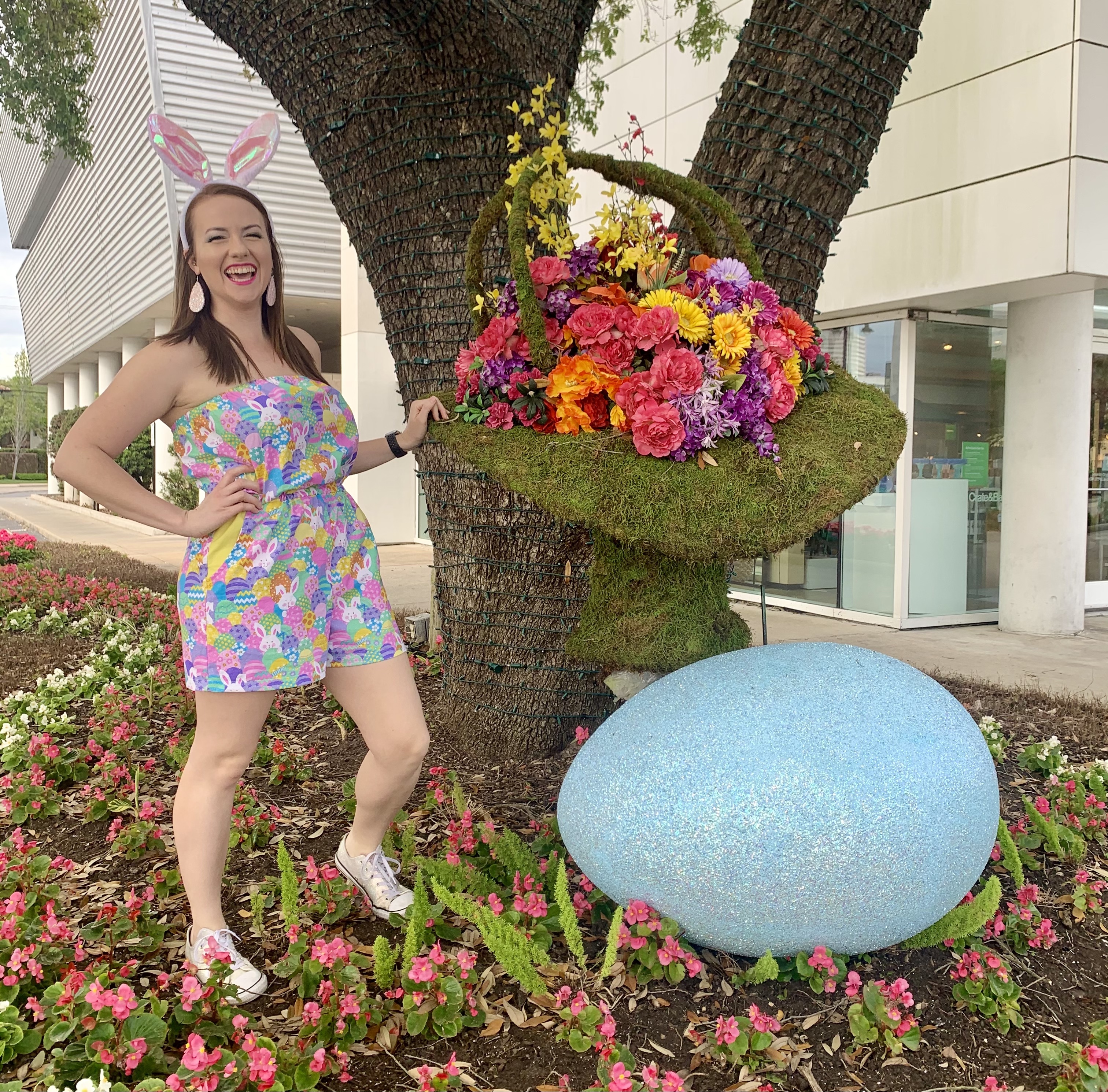 Oh, how I wish I could wear this for more occasions than just Easter! I'm in love with the bright, fun colors that this print is made of. Also, there is glitter that's part of the fabric – which is not exactly visible in the photos but trust me, it's there and it's making this romper that much better.
I paired my Hoppy Bunny romper with iridescent Converse, bunny ears found at The Dollar Tree and adorable glitter earrings from 2 Birds Boutique.
---
LGBTQ Pride – Love is Love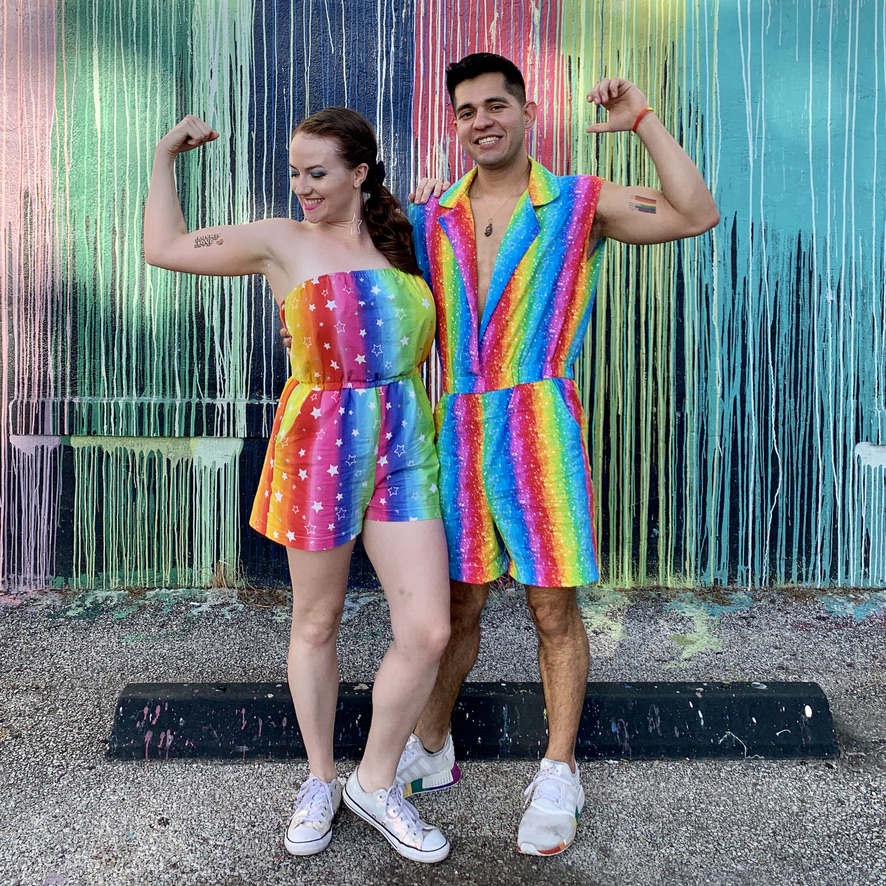 The romper I made for my best friend, Viktor, is my best work yet. I used a pajama – yes, a PAJAMA – pattern to help create this masterpiece of a male romper that fit him perfectly. The original design I came up with included sleeves but I ran out of fabric and had no choice but to leave them off – which proved to be a good thing. The sleeveless, low-cut top combined with the vibrant rainbow print gives off a real 80s-vibe that you can't help but adore! I am so incredibly proud of my ability to fit this romper to Viktor's body shape!!
**Side note – Viktor never had a "coming out" moment like a lot of those in the LGBTQ community do, so he took this as an opportunity to do so. We had an absolute blast taking these adorable photos together where he got his chance to officially come out. I am so proud to call him my best friend and even more proud to shout "LOVE IS LOVE" until my voice gives out!
I used a different yet similar fabric for my romper because they ran out of the fabric that I wanted to use for both of ours (his). I'm actually really glad, though, because the fabric I used for mine matched a set of earrings I had bought years ago. Paired with the dangle-white-star earrings and my iridescent Converse, my look complimented his very well! Click to see the photos on Instagram!
---
4th of July – The Star Spangled Jumpsuit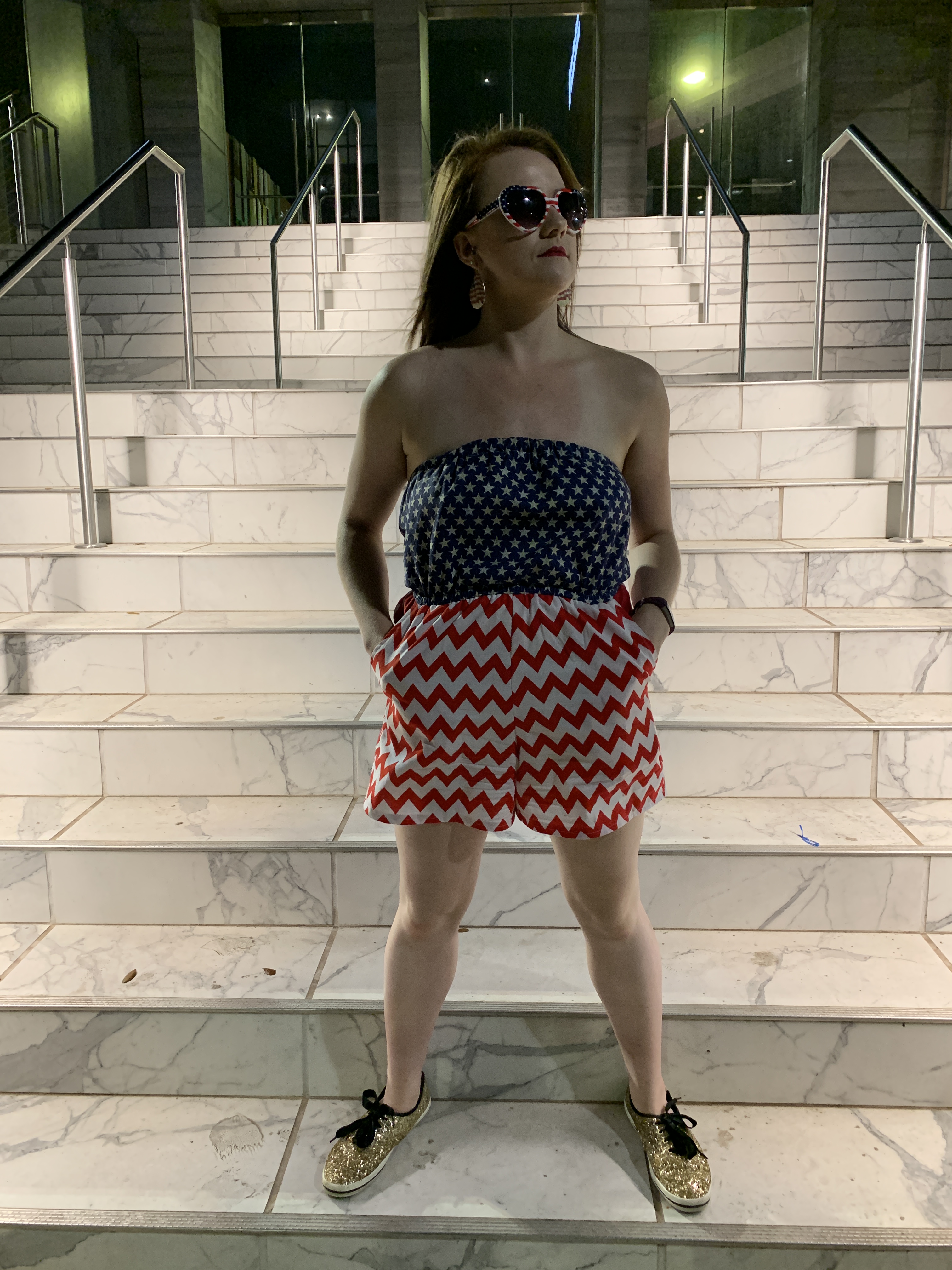 The romper that started it all… I began making this romper in 2016 but stopped halfway through because I realized that I was too big to fit even the largest pattern size. Thankfully I hoard my sewing supplies because I came across the project again in 2019 – not long after I reached my 50lb weight loss goal. I decided to complete the romper and turns out that it was now TOO BIG! My alteration skills were put to the test as I removed extra fabric to have it fit to my new body shape.
After finishing the project, I excitedly posted photos on Facebook where a friend gave me the idea to create a romper for every holiday of the year… Well, here we are! Chugging along and finding new, creative ways to use one pattern to celebrate all year long. (Click here for the original post – the IG version)
---
Halloween – Too Cute to Spook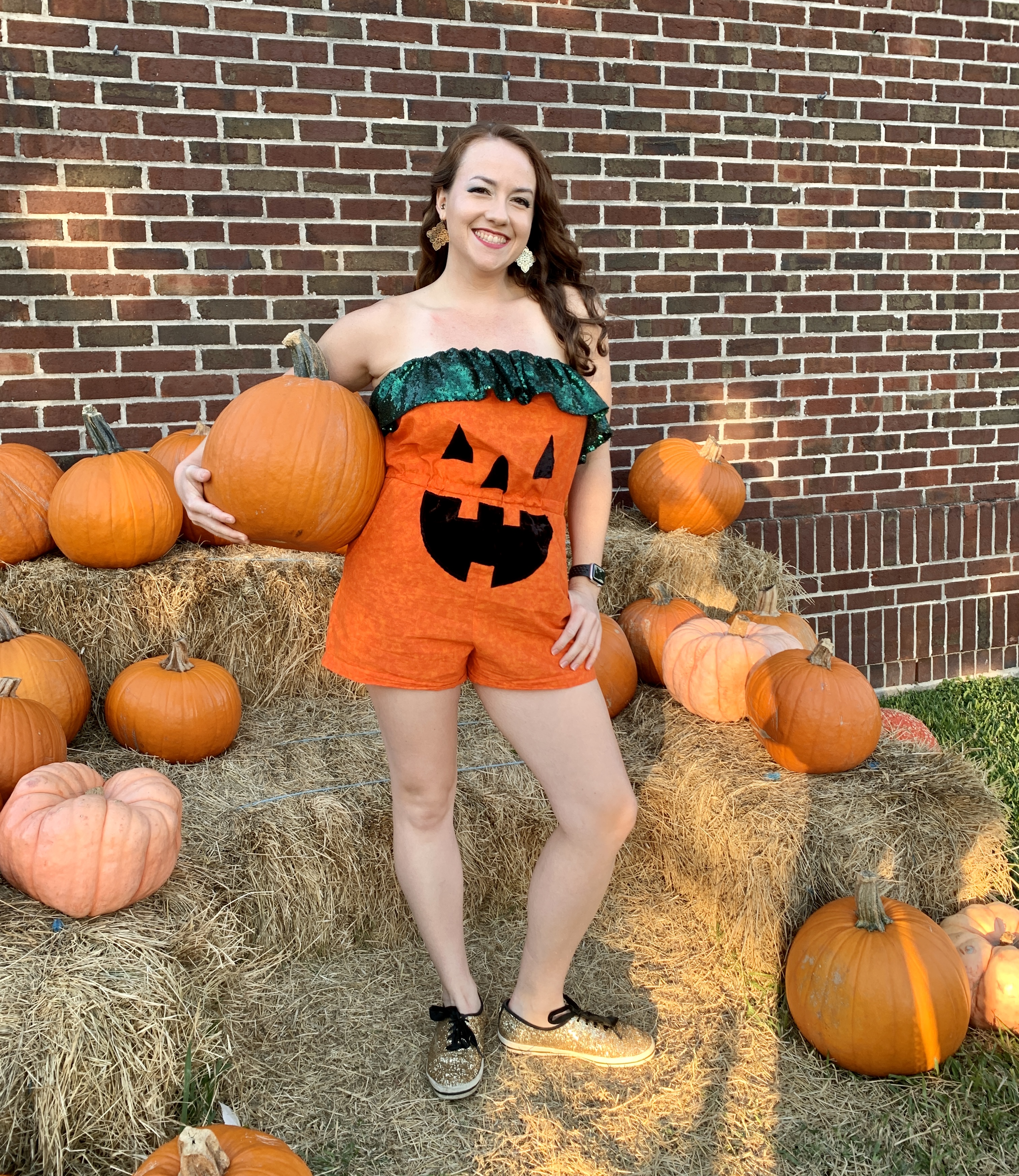 Technically, I made this romper in 2020… It was our first "COVID" Halloween and because I wasn't attending any events to wear a costume to, I chose to make this adorable romper instead! The photos are from both 2020 and 2021 (I stopped using my straightener in 2021 so you should be able to tell which photos are from that year based on this clue ?). I love pairing my gold glitter Kate Spade Keds with this romper as the color scheme works fabulously AND who doesn't love glitter?! This romper was a massive hit and everywhere I went, strangers were complimenting it. With that being said, I'd love to make one for you! Check out my Custom Creations page to learn more about the rompers I create and commission me for yours. ?
---
Thanksgiving – Turkey Trouble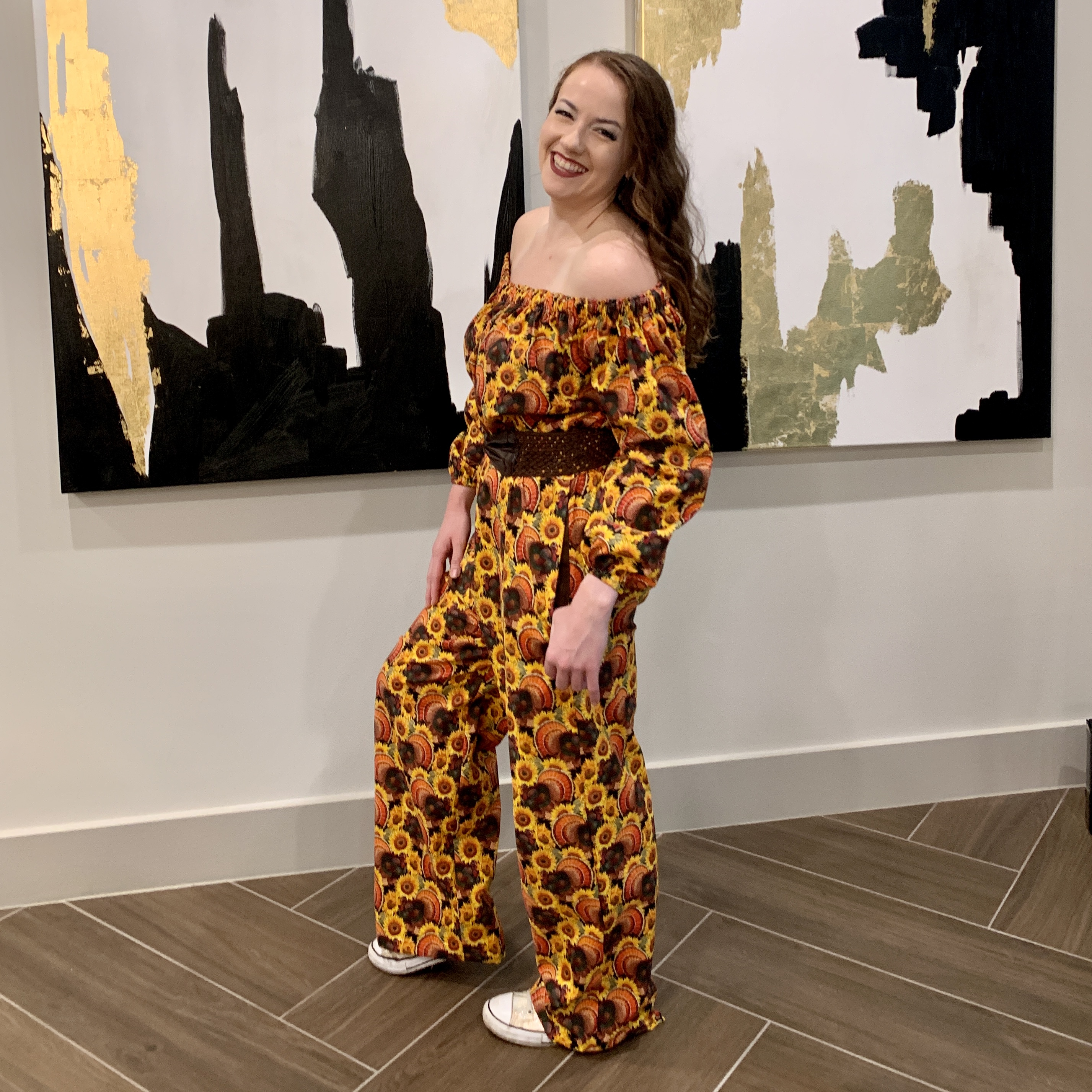 Hands down, this is my favorite romper! I found the fabric in August and immediately bought the remaining 4 yards on the bolt because I knew it was the most perfect print for my Thanksgiving look. The combination of turkeys and sunflowers gave me a real 70s vibe so I decided to skip the strapless look and try something new. I created the top part of this romper from scratch using a tutorial I found on Pinterest that teaches people how to make an off-the-shoulder top. I decided to add elastic to the wrists of the top to give it a polished finish.

I paired this romper with my white iridescent Converse because I had nothing else in my closet that looked remotely good. If you have any ideas on what shoe I could pair with this to better complete the look, send me a message via the Contact page and help your girl out!! ?
---
Christmas – Oh Christmas Tree!
This romper was also a huge fan-favorite because Christmas seems to be everyone's favorite holiday! My birthday is on Christmas so I don't really care much for the holiday (read more about my feelings around this topic here) but I actually enjoyed making this romper. Living in South Texas means that we typically have pretty warm weather around Christmas so having a strapless pant romper was perfect! I layered the romper with a red blazer when I was cold but also had the ability to remove the blazer when I got too warm. Christmas-themed clothing is often sweaters, sweater dresses or items made using a thicker material so choosing to use this glittery, cotton fabric and keeping it strapless allowed for versatility while still sticking with the holiday theme. If you live in the Houston area and want a Christmas themed romper for yourself, send me a message to schedule a consultation. I'd love to create a versatile look for you!
---
Want more romper fun? Check out these articles below!