Research shows that it takes 30 days of doing the same thing over and over again to form a habit. Some of our habits aren't the healthiest and therefore are not very beneficial (like picking up a Starbucks Frappuccino before work each morning or smoking cigarettes daily), while other habits are incredibly healthy and beneficial to our bodies (such as drinking 8 glasses of water or brushing our teeth every day).
If we have too many unhealthy habits in our lives, we are much more prone to weight gain, illnesses and even some cancers. But for the vast majority of us, changing our unhealthy habits can seem pretty overwhelming – even more so if they've been part of our lives for years or even decades. So… Where do we begin?
In 2018, I was at my heaviest weight and I was tired of it. I decided to set a goal to lose 50 pounds within one year. I had no idea what I was doing, I just knew I needed to change for good this time. I had attempted to lose weight many times in the past, but failed every time because I was doing it all wrong – I was trying to change everything all at once. That method is a surefire way to fail as it was exactly as it sounds: incredibly overwhelming! But this time was different. I decided to do a lot of research, read some helpful books and therefore learned to start slow and steady when replacing my old habits with new, healthy ones.
The first thing I did was cut out my biggest addiction – sodas. I focused on removing those unhealthy, fizzy beverages for 30 days straight, taking it one day at a time. If I caved and drank one, I started back over at day 1 until I successfully went 30 days soda-free. Over time, I learned to replace sodas with sparkling waters, water enhancers and natural fruit-infused water. By the time I was finally able to reach those 30 consecutive, successful days, I realized that I no longer desired to drink sodas anymore – SUCCESS!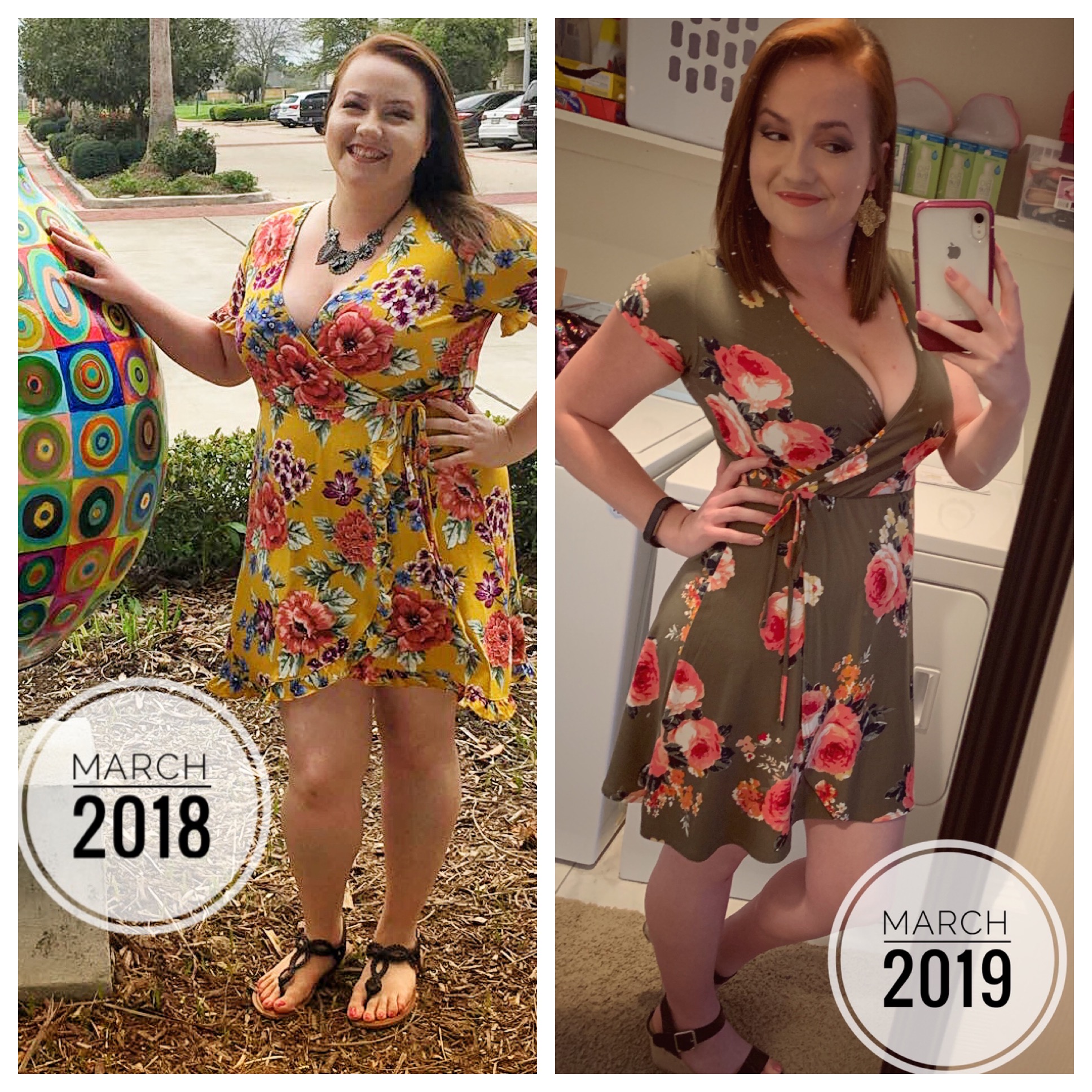 My next focus became eating one healthy meal a day. That might sound easy to some of you, but y'all… I used to eat fast food for every. single. meal. And I am dead-serious! I mean, the petite little girl that I used to be didn't become 200 lbs by eating salads and carrot sticks every day…. Nowadays, I eat incredibly healthy about 93% of the time but looking back, I can still remember how hard it was to choose that one healthy meal instead of consuming my usual nuggets and fries. I took the same process that I used for eliminating sodas to eliminate one unhealthy meal and yup, you guessed it! I took multiple attempts at eating one healthy meal a day for 30 consecutive days until I finally succeeded.
I used this same method over and over again for every single new, healthy habit that I wanted to implement in my life. Recently, I was talking to my coworker about how I used this method and I decided to write down a list of healthy tasks for her to choose from to work on one at a time. I told her to print off a calendar and track her progress when she starts each one because without tracking, you'll never know if you succeeded. See picture below for the original list.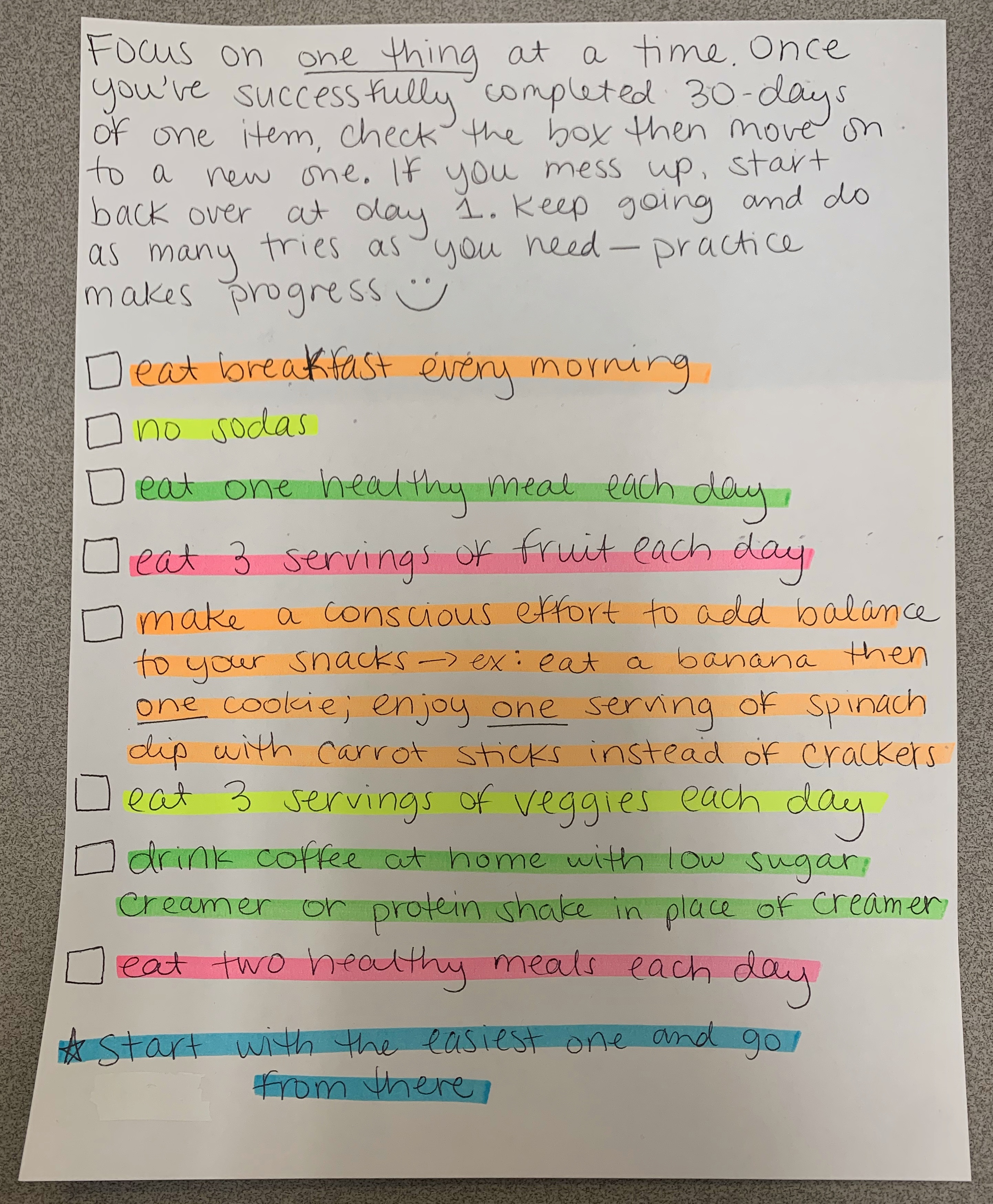 Then a wonderful idea popped into my head – if this is useful to her, it would likely also be very useful to others! I made an Instagram poll to ask my friends if they would use a tracker if I created one and found that my thoughts were correct. Unanimous "yeses" all around!
I took the time to create Healthy Habit Helper – a guide complete with a daily tracker to help you get started on adding some new habits to your life that will help keep you healthy and happy! Click here to get your free copy.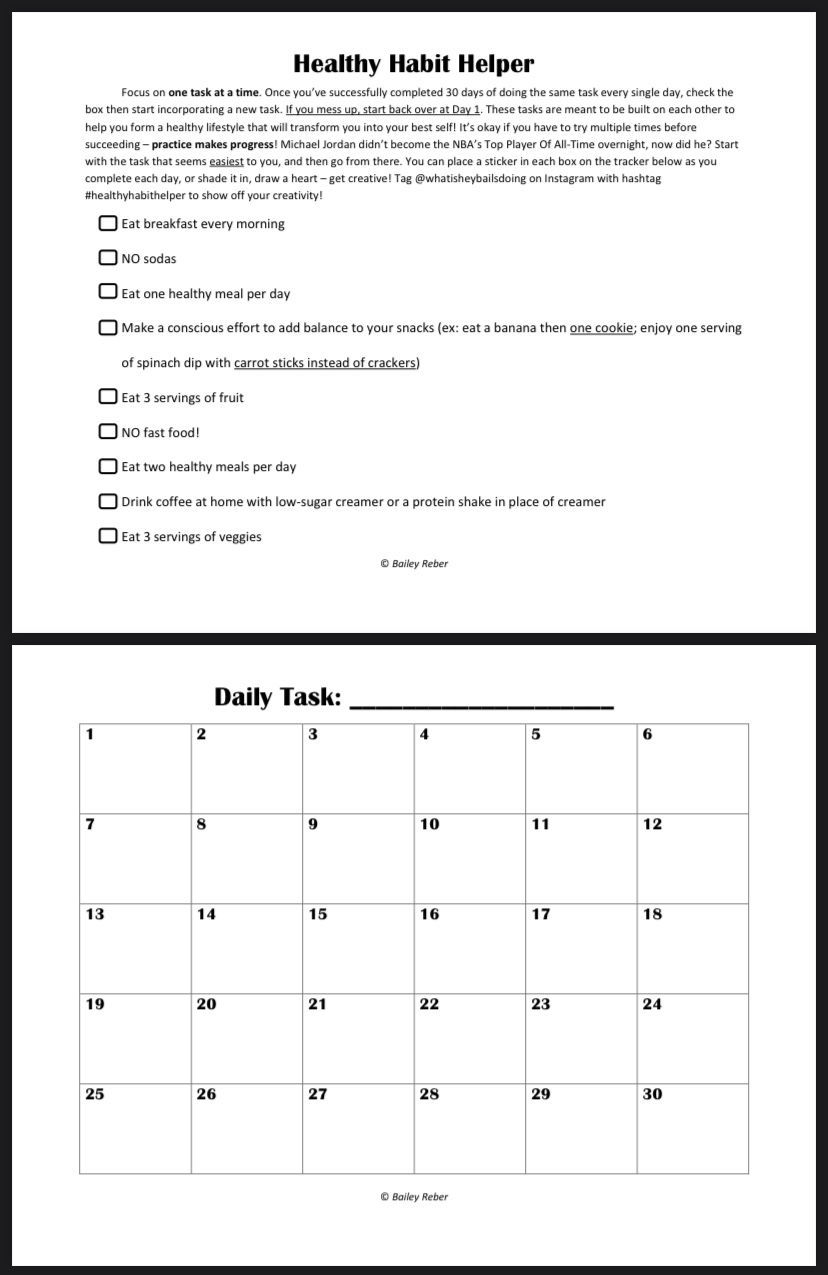 For those of you who give this guide a try, tell me how it's helped you! I'd love to hear all about your journey to your healthiest you. 🙂
Hungry for more? Check out one of these self-development articles to continue learning!